U.S. Representative Adam Schiff announced last week a wide investigation into attempts to influence the 2016 U.S. presidential election as well as Trump's financial dealings, including "credible reports of money laundering and financial compromise" related to Trump business interests.
Deutsche Bank has lent the Trump Organization hundreds of millions of dollars for real estate ventures and is one of the few major lenders that has given large amounts of credit to Trump after a string of bankruptcies at his hotel and casino businesses during the 1990s.
Schiff told NBC's "Meet the Press" he was concerned about whether Mueller had been held back from investigating Trump's finances.
Schiff cited reports that Trump threatened to fire Mueller in 2017 after reports he was trying to get records from Deutsche Bank but backed down after his lawyers received the assurances from Mueller.
"If the special counsel hasn't subpoenaed Deutsche Bank, he can't be doing much of a money-laundering investigation," Schiff said.
"So that's what concerns me, that that red line has been enforced, whether by the deputy attorney general or by some other party at the Justice Department. But that leaves the country exposed," Schiff said.
The special counsel's office declined comment and Deutsche Bank did not immediately return requests for comment on Schiff's statements.
Trump has denied any cooperation by his campaign with Russia to sway the 2016 presidential election. Last week, he dismissed Schiff as not having any authority to review his business dealings.
The bank, one of the world's largest financial institutions, was ensnared in a massive Russian money-laundering investigation and was fined heavily by both U.S. and U.K. regulators in 2017 for practices involving Russian accounts.
Adam Schiff Is Coming For Trump And Not Waiting For Mueller
House Intelligence Committee chairman Rep. Adam Schiff (D-CA) isn't doing a full investigation into Trump's finances and not waiting for the Mueller report.
Transcript via Meet The Press: CHUCK TODD:
Can I pause you there? How would you not know if he's– would Mueller, wouldn't Mueller warn you, "Okay, I'm in the middle of investigating this.
So be patient here and wait till my report," if he were–
REP. ADAM SCHIFF:
Not necessarily.
CHUCK TODD:
I mean, what– okay.
REP. ADAM SCHIFF:
I mean, we're doing our best to de-conflict with him. But up until now, that's been a non-issue because in the minority in the last two years, the Republicans would not do any investigation, wouldn't do a credible investigation of the Russia links, certainly wouldn't look into the president's finances. So there was nothing to de-conflict as long as they were in charge.
But the reason I am concerned about it, Chuck, is there has been reporting that when it was alleged that the special counsel had subpoenaed Deutsche Bank, that the president moved to fire Mueller. And the way they talked him off the ledge was by promising that that reporting wasn't true, that the special counsel hadn't subpoenaed Deutsche Bank.
Well, if the special counsel hasn't subpoenaed Deutsche Bank, he can't be doing much of a money laundering investigation. So that's what concerns me, that that red line has been enforced, whether by the deputy attorney general or by some other party at the Justice Department. But that leaves the country exposed. I find it, you know, just remarkable, Chuck, that the President of the United States as a candidate, as the presumptive nominee, could be pursuing business with the Kremlin and lying about it, and —
CHUCK TODD:
But isn't that what the Mueller probe ultimately is about? Why not wait for that before pursuing a money laundering investigation?
REP. ADAM SCHIFF:
Well, if, if we had waited to do any of our investigative work for the Mueller investigation, we would have been waiting a year and a half. And we have a separate and independent and important responsibility. And that is to tell the country what happened. Mueller, ultimately, his job is to determine who broke the law and who should go to jail.
But as we have seen from Bill Barr's testimony, there is no commitment by this Justice Department under Whitaker and there's no commitment apparently under Barr, should he be confirmed, to share that evidence with the Congress or the American people, so we need to find it ourselves.
Video:
Adam Schiff Is Doing The Investigation That Should Have Been Done
In case Trump was thinking about delaying Schiff by burying the Mueller report, that strategy is now dead in the water. House Democrats had said that they would wait for the Mueller report before making any decisions on impeachment. They have since moved that timetable up
because the evidence of Trump's crimes is growing by the day.
Trump is losing it on Schiff because he is going to do what this president has always feared the most. He is going to follow the money and connect the dots on Trump's career of crime.
For more discussion about this story join our Rachel Maddow and MSNBC group.
Follow Jason Easley on Facebook
0
Schiff vows to continue investigation into Trump finances, Russia links
House Intelligence Committee Chairman Adam Schiff vowed on Sunday to continue the investigation into President Trump's finances and foreign connections for as long as it takes.
Speaking during an interview on NBC's "Meet The Press," the California Democrat said he found it "remarkable" that Trump was seeking a business deal with Russia and that he wanted to make sure that the president was "working in the national interest.
"
"We are looking to see if the president is working in the national interest," Schiff said. "That he is not motivated by some pecuniary interest or fear of compromise or actual compromise."
Schiff last week hired former National Security Council staffers to work for him as he launches a sweeping new investigation into Trump – a move that appears to have drawn particular ire from the president.
Trump tweeted Thursday that Schiff and Democrats were going "nuts" with investigations and wrote, without elaborating, that they were "even stealing people from the White House!"
It's unclear exactly who Trump was talking about, but the tweet comes as Schiff appears to have hired at least one staff member who served on the National Security Council under Trump. The staff member, Abigail Grace, is listed in a House directory as working for Schiff on the intelligence panel. A person familiar with the committee's staff confirms that she is working for the panel and used to work for the NSC.
Grace worked for a bipartisan think tank, Center for a New American Security, after working for both former President Barack Obama and Trump on the National Security Council from 2016 to 2018. She focused on Asia-Pacific security issues, according to a spokesman for the group.
Schiff wouldn't confirm the hires in an interview Thursday, but hinted at them while snapping back at Trump.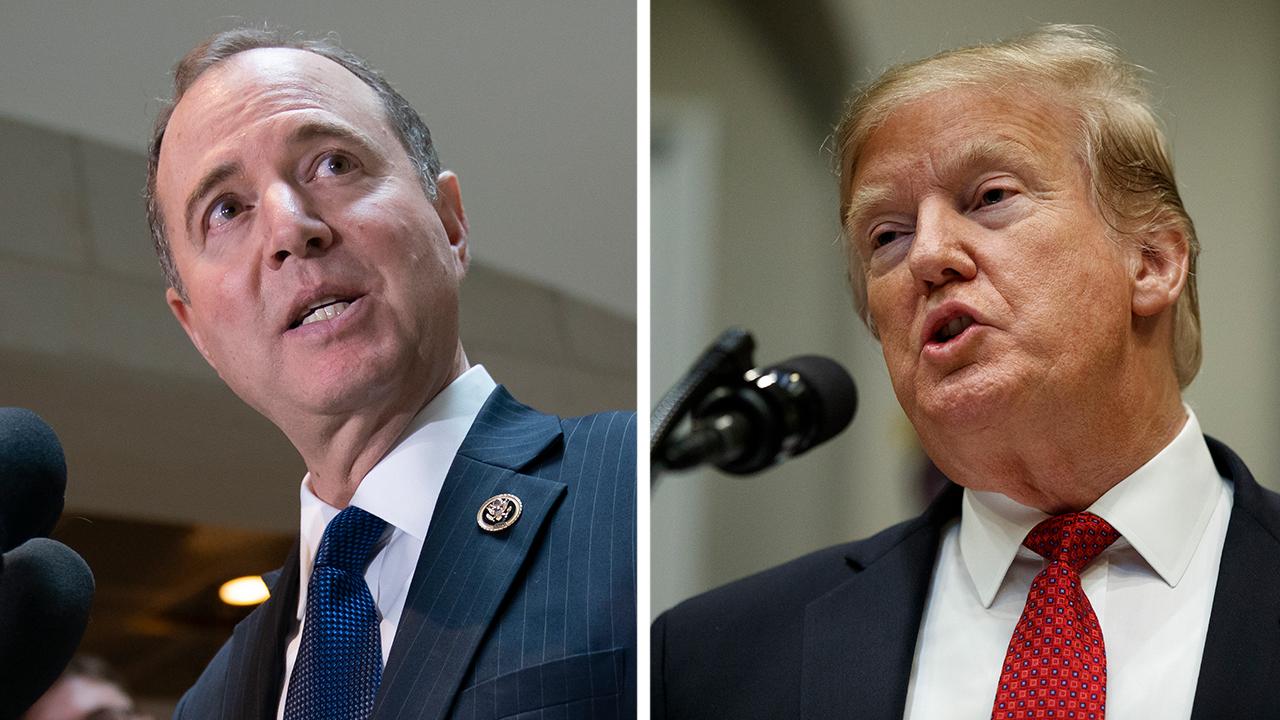 "We have a long tradition of hiring out of the intelligence community, out of the National Security Council, and if the president is worried about our hiring any former administration people maybe he should work on being a better employer," Schiff said.
A committee aide said that none of Schiff's staff have come directly from the White House, but said the panel has hired people with prior experience on the National Security Council staff.
"We do not discriminate against potential hires on the basis of their prior work experience, including the administration," the aide said. The person also declined to be identified because they were not authorized to speak publicly about confidential committee business.
The Associated Press contributed to this report.
Donald Trump Busts Adam Schiff for Hanging Out with Fusion GPS Founder In Aspen
President Donald Trump ridiculed House Intelligence Committee chairman Adam Schiff Friday for reports that he spent time with Fusion GPS Founder Glenn Simpson in Aspen. "Now we find out that Adam Schiff was spending time together in Aspen with Glenn Simpson of GPS Fusion, who wrote the fake and discredited Dossier, even though Simpson was testifying before Schiff," Trump wrote on Twitter, citing a report by writer John Solomon in a column for The Hill.
Both men told Solomon that their encounter at the Aspen security conference was brief, despite photographs of the two together in July of 2018.
"The chairman did not have any pre-planned meeting with Glenn Simpson, and any conversation with him at the Aspen conference would have been brief and social in nature," Schiff spokesman Patrick Boland said in a statement.
Trump dismissed the new and ongoing Russian collusion investigations as hoax.
"It is all a GIANT AND ILLEGAL HOAX, developed long before the election itself, but used as an excuse by the Democrats as to why Crooked Hillary Clinton lost the Election!" he said.
Now we find out that Adam Schiff was spending time together in Aspen with Glenn Simpson of GPS Fusion, who wrote the fake and discredited Dossier, even though Simpson was testifying before Schiff. John Solomon of @thehill

— Donald J. Trump (@realDonaldTrump) February 8, 2019
This article was sourced from
Breitbart
This article was sourced from Reuters
This article was sourced from PoliticusUSA
This article was sourced from Foxnews