As the American press paints a dire picture of all the new cases of coronavirus out there, to inspire another economy-crushing set of closures, it would be wise to step back and start questioning the numbers.
Evidence suggests there may be substantially fewer new cases of COVID-19 than those being reported. To begin with, there appear to be many cases of "presumed positive."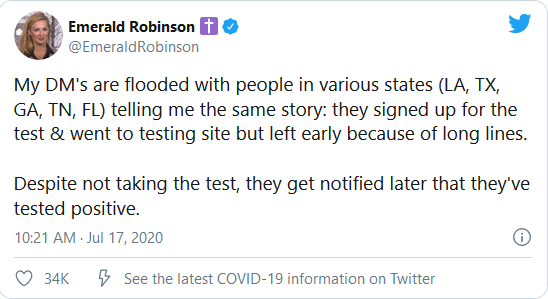 Additionally, there are clear cases of deemed-positive, despite contraindications the cause of illness or death is related entirely to another factor.
Florida's coronavirus death count includes at least one young man who died in a motorcycle accident, according to a local health official.
After several reports that health organizations in Florida were misreporting data, Danielle Lama of Fox 35 Orlando spoke with Orange County Health Officer Dr. Raul Pino about several specific cases.
Lama asked Pino whether two younger people listed as COVID-19 deaths, both in their twenties, had suffered from any underlying conditions.
"The first one didn't have any. He died in a motorcycle accident," Pino replied.
When Lama followed up, asking whether his data had been removed from the official tally since his cause of death was the motorcycle accident, Pino said that he couldn't be sure.
Furthermore, there are now indications that there are false positive results being reported from testing laboratories.
In fact, a study product by a Connecticut pathologist shows the CDC coronavirus test kits generate 30% false positive results and 20% that are false negatives.
The current CDC nucleic acid test kits for SARS-CoV-2 generate 30% false-positive and 20% false-negative results in the best state public health laboratory, Dr. Sin Hang Lee reported in a peer-reviewed article published in the International Journal of Geriatrics and Rehabilitation, an online journal based in Japan
Sin Hang Lee, MD, director of Milford Molecular Diagnostics Laboratory, the author of the article (http://www.dnalymetest.com/images/IJGeriatRehabLee_on_SARSCoV2_test.pdf), re-tested 20 reference samples provided by the Connecticut State Department of Public Health Microbiology Laboratory Division to arrive at this conclusion, according to the published article. These reference samples were tested by the State Microbiology Laboratory with the CDC test kit and used as the standard reference to guide local laboratories to develop their own tests for SARS-CoV-2 in clinical specimens from suspected COVID-19 patients, according to the published article titled "Testing for SARS-CoV-2 in cellular components by routine nested RT-PCR followed by DNA sequencing."
Dr. Lee is the first scientist developing a protocol to test the cellular components, instead of the cell-free fluid sample of a swab rinse, for SARS-CoV-2 genomic RNA.
"The virus must grow and replicate in a living cell, and one infected cell may contribute thousands of copies of viral genome equivalents to be tested," explained Dr. Lee.
The Rhode Island Department of Health just reported that the state had received 113 false-positive COVID-19 test results from a private laboratory.
These false-positive results were reported between July 9 and July 14, according to RIDOH.
RIDOH says the lab identified the issue with the accuracy and concluded that the initial sample handling in the lab produced the false positives with the batch.
RIDOH says 82 Rhode Islanders with positive results were included in that batch and received a positive result when retested.
The department says it will update the data webpage to reflect the true positive count.
Rhode Island isn't the only state system reporting anomalous number, either.
The Florida Department of Health in its daily COVID-19 report lists multiple laboratories throughout the state – many of them small testing sites – with 100% positivity rates, but Southwest Florida's dominant hospital system said Wednesday it is incorrect to say 100% of their labs are positive.