Trump says the border is in crisis, and that only a wall can stop the illegal-alien invasion of the United States. Open-borders Democrats say it isn't in crsis, and that a wall will be a "waste" and "ineffective."
Well, it appears another few thousand illiterate illegal aliens might just park in Tijuana and try to storm the border a couple times to help settle the debate.
Forming in Honduras Again The bad news about a new "caravan" comes from the Washington Post, which reported that a social media flyer in Honduras is inviting potential recruits.
"We're looking for refuge," it says. "In Honduras, we are being killed." The flyer says the caravan leaves at 5 a.m. on January 15 from San Pedro Sula, Honduras.
But Mexico, the Post reported, is ready with hard-nosed guards at "370 illegal crossing points and the border" who will "prevent the entry of undocumented people.'"
Another few thousand invaders would add to the illegal-immigration woes Mexico already has. Thousands of migrants who marched north with the last caravan are already squatting in Tijuana.
They hope to file what will mostly be phony asylum claims and get into the United States.
Why They're Coming Of course, organizers can't get their story straight in giving reasons for the dangerous trip north.
The social-media account for the caravan says the illegal-alien invasion force fears violence and persecution. But the migrants will really be garden-variety illegal aliens looking for jobs, an organizer told the Post.
"We don't know how many people this will be, but it's a lot," said a taxi driver who "helped organize the last caravan" and is at it again. "With this caravan," he confessed, "the goal is to give them a chance to work and have a better life, be it in Mexico or the United States."
Illegals who marched with the last caravan admitted that truth, and illegal aliens who have been caught and deported from both Mexico and United States have admitted the truth to researchers. They do not migrate for asylum, but instead for work, welfare, and public schools.
One soon-to-be illegal alien invader admitted that even work and welfare weren't the reason for his trip north. "It's not just employment or that Honduras is dangerous," 18-year-old Glen Muños told the Post. "I'm young, and I want to know another place."
Muños' older brother is living in the United States illegally, and apparently, hopes to sneak his little brother across the border. "Honduras is dangerous and I'm not having him stay there," big brother texted to the Post, which helpfully noted that "he spoke on the condition of anonymity now that he is living illegally in the United States."
The Post even found a lesbian who wants to leave home, and bring her partner, because she's afraid of two thugs in her family, and "'macho men' who insult her because she's gay."
If that's a reason for asylum, then the United States better be prepared for a bazillion more asylum claims from those who partake of the love that dare not speak its name.
Most of the Third World is as unenlightened about women's and "gay rights" as Honduras apparently is.
False Claims Before he left to visit the border on Thursday, President Trump took note of the new Camp-of-the-Saints-like invasion force.
"There is another major caravan forming right now in Honduras," he said. "And so far — we're trying to break it up. But so far, it's bigger than anything we've seen. And a drone isn't going to stop it. And a sensor isn't going to stop it. But you know what's going to stop it in its tracks? A nice, powerful wall."
Government data show that the large majority of asylum claims are phony.
Such claims have increased 2000 percent in the last five years, the White House reported early this week before Trump's national address on Tuesday, and 72 percent of illegals "report making the journey for economic reasons and therefore would not typically qualify for asylum."
And those data do not account for the never-ending stream of illegals, some of whom are dangerous criminals.
October 2018 photo of Honduran migrant caravan: AP Images
Mexico preparing for next "Migrant Caravan"
There is a potential public health crisis at the border, as infectious diseases are rampant and the number of sick migrants surge.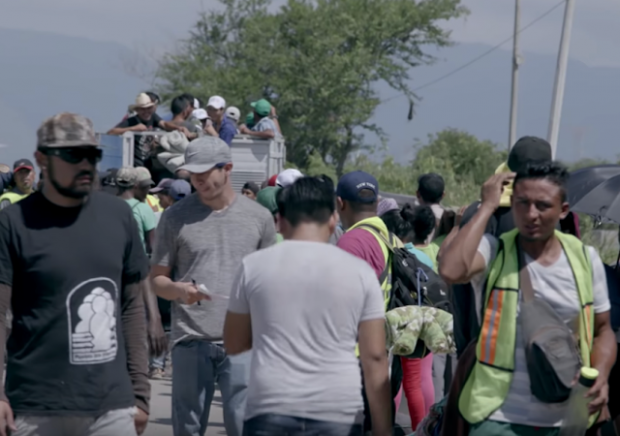 When I reported that 150 "caravan migrants" attempted to storm the border near San Diego on Christmas Eve, I noted that a second caravan had been formed in Honduras.
It appears that the next band of border busters is poised to enter Mexico.
Mexican authorities will meet with Central American officials to prepare for the arrival of a planned new caravan of migrants headed to the United States next week.
The head of Mexico's immigration office, Tonatiuh Guillen, left on Wednesday on a trip to El Salvador and Honduras to meet with his counterparts and other authorities, said Interior Ministry spokesman Hector Gandini.
Mexico hopes to discourage a mass exodus from El Salvador, Guatemala and Honduras, and wants Central Americans who decide to migrate north to do so in an orderly way and through legal ports of entry.
Border Patrol agents have apprehended 27,518 members of family units in December, which is the highest monthly total on record. Apparently, the robust economy and promise of social justice goodies (e.g., Medi-Cal benefits from California's new governor) have inspired more to make the trek.
Those caravan members, most of whom tried to exercise their legal right to request asylum in the USA, contributed to a third straight month of more than 60,000 migrants being detained at U.S. ports of entry and arrested in the vast stretches of border in between.
The Trump administration points to those numbers as proof that the situation along the southern border is at "crisis" levels that require the expansion of the border wall. Trump used a national TV address from the Oval Office on Tuesday night to argue that case.
The administration has also used the growing number of migrants to try to end asylum for victims of domestic abuse and gang violence and to prevent migrants who enter the country illegally from applying for asylum.
Arguably, not only is this situation a humanitarian crisis, it is also a potential public health catastrophe. Border authorities are sending 50 illegal entrants to medical facilities daily, so a a variety of contagious diseases (e.g.,flu, tuberculosis) can be treated.
CBP Commissioner Kevin McAleenan said most of those needing help were ill when they arrived at the border, and some appear to have made the initial decision to leave even while ailing.
"Many were ill before they departed their homes," the commissioner said. "We're talking about cases of pneumonia, tuberculosis, parasites. These are not things that developed urgently in a matter of days."
During President Trump's address to the nation on the border crisis, he said: "When I took the oath of office, I swore to protect our country. And that is what I will always do so help me God." He has plenty of incentive to keep the government closed until C
Over Last Decade, US Govt Granted Over 5,000 Requests to Bring in Child Brides From Foreign Nationals
The U.S. approved more than 5,000 requests by men to bring child or adolescent brides into the country over the past decade, enabling forced child marriages.
U.S. immigration authorities approved5,556 requests from older men to bring child or adolescent wives to the U.S., and approved2,926 requests from young girls to bring their older husbands to the U.S. between the budget years of 2007 and 2017.The data also revealed 4,749 minor spouses or fiancees had received U.S. green cards in that time period.
The highest percentage of requests came fromMiddle Eastern nationals, with the majority of requests coming fromMexico, followed byPakistan, Jordan, the Dominican Republic and Yemen.
The requests and their approvals were apparently legal, according to government dataobtainedby The Associate Press, due to the fact that the Immigration and Nationality Act does not limit the age of spouses. U.S. Citizenship and Immigration Services also approves or denies requests based on whether the marriage is legal in the home country and the state of the applicant.
Republican Wisconsin Sen. Ron Johnson,chairman of the Senate Homeland Security Committee, said the approvals highlight a legal loophole in which, contrary to U.S. policy on child marriage, U.S. immigration services enable the marriages of girls as young as 15 to men as old as 49.
"It indicates a problem. It indicates a loophole that we need to close," Johnson told the AP.
In the cases where adolescent girls applied for their older husbands to come over, immigration officials fear they are being forced to do so and used to gain citizenship for the men who married them.
Such was the case withNaila Amin, a dual citizen of Pakistan and the U.S., whose parents arranged for her engagement to a Pakistani man in his 20s when she was just 8 years old. Her parents reportedly flew her to Pakistan when she was 13 to be married to the man, then flew her back to the U.S. and forced her to apply for her husband to come to the U.S.
Amin, who endured beatings and sexual assault from the man, said she was "a lottery ticket" for the man's citizenship.
"People die to come to America.I was a passport to him. They all wanted him here, and that was the way to do it," Amin told AP.
Amin ran away from her family, and the petition for the man who she was forced to marry fell through. She since reconciled with her family, but she spent years in and out of foster care before she could rebuild her life. Amin said she has a hard time understanding how her situation did not alarm immigration officials.
"I was a child. I want to know: Why weren't any red flags raised? Whoever was processing this application, they don't look at it? They don't think?" Amin said.
U.S. Senate (Photo by Zach Gibson / Stringer via Getty Images)
Johnson and then-Democratic Missouri Sen. Claire McCaskill requested data on child marriage in several states in 2017, in lieu of national data on the issue.Fraidy Reiss, head of anti-child-marriage group Unchained at Last, gathered data for her home state of New Jersey in response to their request. She found approximately4,000 minors were legallymarried in New Jerseyfrom 1995 to 2012,178 of whom were younger than 15.
"This is a problem both domestically and in terms of immigration," Reiss said.
While several states allow for minors to be married with parental consent, Reiss said the children in those marriages areoften coercedand then subjected to physical and sexual abuse by their spouses.
"They are subjected to a lifetime of domestic servitude and rape.And the government is not only complicit; they're stamping this and saying: Go ahead," Reiss added.
Members of the Senate Homeland Security Committee echoed Reiss's appraisal of the situation.
"Our immigration system may unintentionally shield the abuse of women and children," the senators wrote in a letter.
USCIS headL. Francis Cissna said in a letter to the committee their agency has begun discussing solutions to the issue after reviewing the data. In the meantime,USCISThis article was sourced from InfoWars
This article was sourced from TheNewAmerican
This article was sourced from LegalInsurrection