Biden let out his anger with Ukrainian President Petro Poroshenko on his January 15th, 2017 trip to Kiev, Ukraine, reportedly telling the foreign leader, "You fucked up! What we were working on all leaked to the press!"
Joe Biden with former Ukrainian President Petro Poroshenko
RAND PAUL INVITES MANCHIN TO DEFECT FROM THE DARK SIDE
RAND PAUL INVITES MANCHIN TO DEFECT FROM THE DARK SIDE
This new disclosure indicates that Biden had a much more significant role in the 2016 election interference by Democrats close to Hillary Clinton than has been previously revealed.
NO SCIENCE TO CALIFORNIA'S CRACKDOWN ON GAS
NO SCIENCE TO CALIFORNIA'S CRACKDOWN ON GAS
After Biden's outburst, Poroshenko then called in a former Ukrainian official who he believed to be a whistleblower and threatened him. The Ukrainian whistleblower was later forced to flee Ukraine, fearing for his safety.
A Kyiv Post article from January 2017 confirmed that Biden was in Ukraine shortly after the Politico article's release and met with Poroshenko.
WATCH: CHICAGO'S EVIL MAYOR VILIFIES COPS ON CAMERA
WATCH: CHICAGO'S EVIL MAYOR VILIFIES COPS ON CAMERA
The Politico article Ukrainian efforts to sabotage Trump backfire detailed how a longtime DNC operative named Alexandra Chalupa worked directly with the Ukrainian embassy to attempt to get dirt on then-candidate Trump in an attempt to tie him to Russia.
FACT: SUPPLY CHAIN CRISIS HURTING MOST AMERICANS
FACT: SUPPLY CHAIN CRISIS HURTING MOST AMERICANS
One of the most chilling parts of that article revealed that Chalupa had told Ukrainian officials that the Democrats planned hearings prior to the election attempting to tie Trump to Russia, months before the alleged "DNC hack" was revealed, and months before Glenn Simpson claimed he hired Christoper Steele to write the now-disgraced "Steele Dossier."
DEMS QUIT USING IRS TO CRACK DOWN ON CITIZENS
DEMS QUIT USING IRS TO CRACK DOWN ON CITIZENS
Chalupa admitted that she was working with Ohio liberal Democrat Marcy Kaptur:
Chalupa confirmed that, a week after Manafort's hiring was announced, she discussed the possibility of a congressional investigation with a foreign policy legislative assistant in the office of Rep. Marcy Kaptur (D-Ohio), who co-chairs the Congressional Ukrainian Caucus. But, Chalupa said, "It didn't go anywhere."
Asked about the effort, the Kaptur legislative assistant called it a "touchy subject" in an internal email to colleagues that was accidentally forwarded to Politico.
Kaptur's office later emailed an official statement explaining that the lawmaker is backing a bill to create an independent commission to investigate "possible outside interference in our elections." The office added "at this time, the evidence related to this matter points to Russia, but Congresswoman Kaptur is concerned with any evidence of foreign entities interfering in our elections."
The article that angered Biden also revealed that Chalupa was working closely with Trump-hating reporter Michael Isikoff and coordinating with the Communications Director Luis Miranda, who was hand-picked for the position by Hillary Clinton's team.
Those details came out in an email published by Wikileaks.
Politico wrote:
In the email, which was sent in early May to then-DNC communications director Luis Miranda, Chalupa noted that she had extended an invitation to the Library of Congress forum to veteran Washington investigative reporter Michael Isikoff. Two days before the event, he had published a story for Yahoo News revealing the unraveling of a $26 million deal between Manafort and a Russian oligarch related to a telecommunications venture in Ukraine. And Chalupa wrote in the email she'd been "working with for the past few weeks" with Isikoff "and connected him to the Ukrainians" at the event.
The Ukrainian whistleblower has expressed an interest in talking to President Trump directly about the matter, as well as other issues related to Joe Biden's influence in Ukraine.
This is a developing investigation
Warren's Anti-Corruption Plan Does Not Prevent Hunter Biden Scenario
This article was sourced from Breitbart
An anti-corruption plan put forth by Sen. Elizabeth Warren (D-MA) in the 2020 Democrat presidential primary would not prevent a scenario where a sitting vice president's child is allowed to serve on the board of a foreign corporation, as former Vice
President
Joe Biden's son did.
Released last month, Warren's plan to "End Washington Corruption" seeks to end a series of loopholes where presidents, vice presidents, lawmakers, and their family members have been able to effectively sell influence to line their pockets — a scheme that the Clintons were famously accused of with the Clinton Global Foundation, and one which Biden and his son, Hunter Biden, are now accused.
In April 2014, as Breitbart News' Haris Alic has reported, Hunter Biden was appointed to serve on the board of Ukrainian oil company Burisma despite having no qualifications do to so. At the same time, Biden led the Obama administration's response to Russia's invasion of Crimea, pushing billions of dollars in U.S. taxpayer aid to the Ukrainian government. Some of that money allegedly filtered out to Burisma, the corporation of which Biden's son was a board member.
When asked last month whether her anti-corruption plan would prevent a case where a sitting vice president's child could serve on the board of a foreign corporation, Warren evaded the question, saying "I don't know."
"I'd have to go back and look at the details on the plan," Warren said.
A review of Warren's anti-corruption plan, though, reveals that there is no explicit language preventing another case where a sitting vice president's child can serve on the board of a corporation, let alone a foreign corporation.
The closest Warren's plan comes to dealing with a Hunter Biden scenario is banning lawmakers and their staff from serving on the boards of corporations, domestic and foreign.
"My plan bans members of Congress and senior congressional staff from serving on corporate boards — whether or not they're paid to do so," the plan states.
While Warren's plan would mandate presidential transition team members to disclose their involvement with corporations, foreign governments, and other potential conflicts of interest, this portion of the plan does not extend to members of an administration who later involve themselves in potential conflicts of interest.
"It also strengthens ethics requirements for presidential transition teams to ensure that those who are shaping our government disclose any conflicts of interest and comply with the highest ethical standards," the plan reads.
Though the Hunter Biden question was asked of Warren almost two weeks ago, her campaign has yet to follow up on whether they would revise their anti-corruption plan to include banning the family members of sitting vice presidents from serving on the boards of foreign corporations.
John Binder is a reporter for Breitbart News. Follow him on Twitter at @JxhnBinder.
Susan Page: By 2-to-1 Margin Americans Say Investigating Biden's 'Unseemly' Behavior Legitimate
This article was sourced from Breitbart
On Sunday's broadcast of CBS's "Face the Nation," USA Today Washington bureau chief Susan Page said Americans want Joe Biden's "unseemly" behavior over his son Hunter's business in Ukraine investigated.
Host Margaret Brennan asked, "What does this mean for the 2020 race. You have Joe Biden out there with the "Washington Post" op-ed. He hasn't sat and really answered questions to clear the air on this. Is it going to hurt him?
Page said, "Yes, it's going to hurt him. It's hurting him already, fairly or not. You start any discussion by saying there is no evidence that Joe Biden did anything illegal or anything improper. That said, on this show, we saw a commercial paid for by the Trump campaign making the case against Biden. We had a USA Today poll this week that showed by 2-1, by 42-21%, Americans say it would be legitimate, there are valid reasons to investigate Biden's behavior when it came to Ukraine."
She added, "The behavior was not illegal. It's not unusual for family members the try to cash in on famous or powerful relatives. It is something Americans do not like. It is unseemly that. It is a question that Joe Biden is going to have to answer moving forward."
Follow Pam Key on Twitter @pamkeyNEN
This article was sourced from Foxnews
Former Vice President Joe Biden took a shot at President Trump on Sunday, calling him "unhinged" amid Trump's response to the impeachment inquiry and the president's own allegations of wrongdoing by Biden and his son.
Speaking at a Service Employees International Union (SEIU) summit, the 2020 presidential primary contender continued his strategy of pushing back against Trump's allegations and what his campaign has called the president's "unprecedented abuse of power."
"Have you ever seen -- rhetorical question -- a president ever so unhinged as this guy is?" the Democrat asked Sunday.
While Biden and Trump have been at odds long before the former vice president entered the 2020 presidential race, the animosity between the two has heated following the whistleblower complaint that claimed Trump pressured Ukrainian President Volodymyr Zelensky to investigate Biden and his son Hunter, and threatened to withhold military aid if the Ukrainians did not follow through.
Trump has accused Hunter Biden of improper activity related to his business dealings with energy company Burisma Holdings and claimed his father used his office to pressure the Ukrainian government into firing top prosecutor Viktor Shokin, who was investigating Burisma.
The former vice president has acknowledged publicly that he pressured Ukraine to fire Shokin but denied it had any relation to his son's business dealings in the country. Biden said his actions were in line with pressure from other foreign leaders to fire the prosecutor.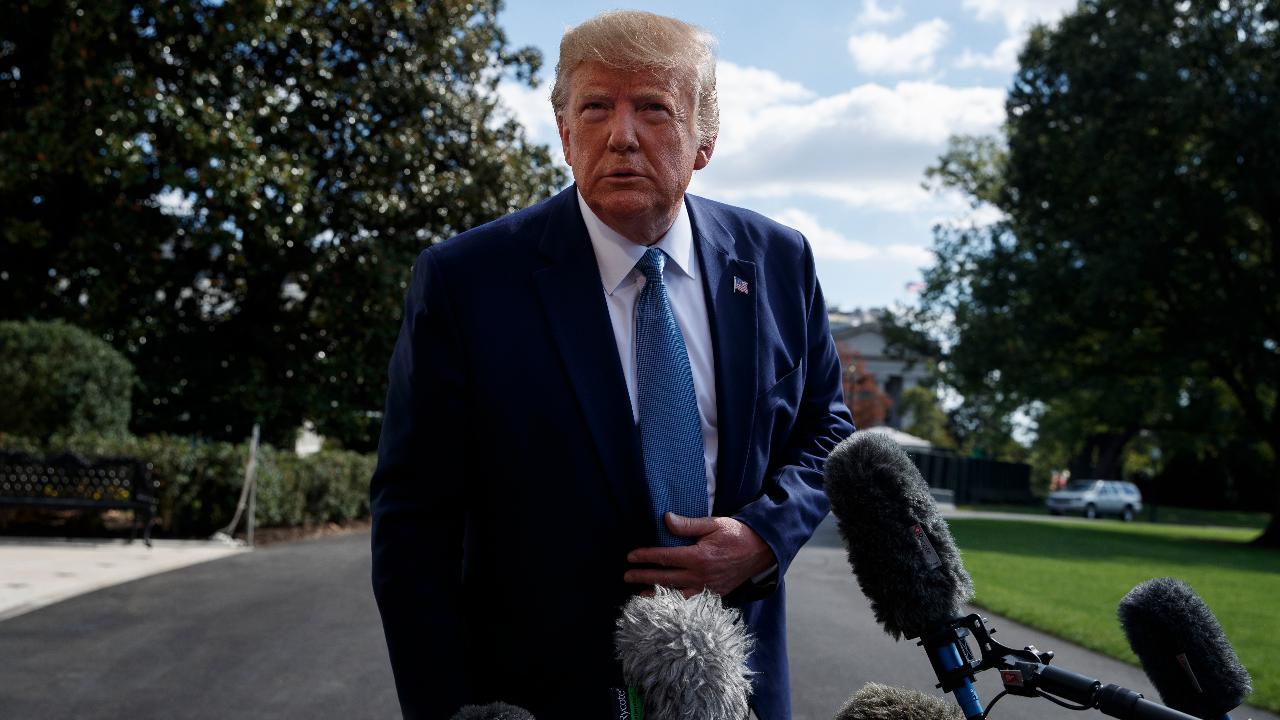 "We weren't pressing Ukraine to get rid of a tough prosecutor. We were pursuing Ukraine to replace a weak prosecutor who wouldn't do the job," Biden said this past Wednesday of an Obama administration policy supported by other Western governments that viewed Shokin as incompetent or perhaps corrupt.
The U.S. also had support internationally for its opposition to Shokin. Ukrainian officials, including Shokin's successor, have said since that the Bidens were never implicated in any wrongdoing.
Biden's "unhinged" comment came amid a challenging weekend for the Trump administration as reports emerged that a second whistleblower – this one with firsthand knowledge of the phone call between Trump and Zelensky – has spoken to the intelligence community's inspector general.
The first whistleblower was subjected to criticism from Trump and his supporters based on an apparent lack of direct knowledge of the president's conversation with Zelensky, as well as what Trump has called an inaccurate description of the call.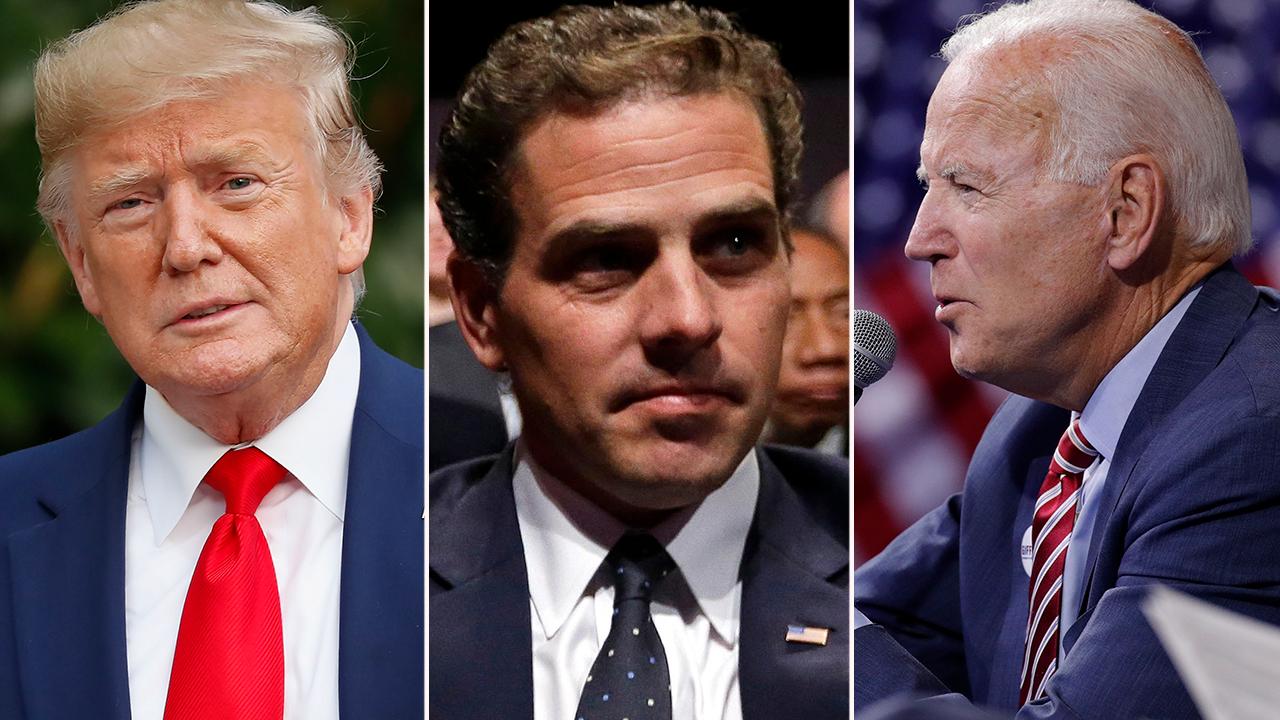 The new whistleblower also faced the ire of Trump, who has been even more active on social media over the weekend than normal. Targets of his social-media attacks included House Intelligence Committee Chairman Adam Schiff, D-Calif., and Republican Sen. Mitt Romney of Utah.
"The first so-called second hand information "Whistleblower" got my phone conversation almost completely wrong, so now word is they are going to the bench and another "Whistleblower" is coming in from the Deep State, also with second hand info, Trump tweeted. "Meet with Shifty. Keep them coming!"
Biden held a nine-point advantage over Trump in the crucial swing state of Wisconsin, according to a Fox News poll out Sunday.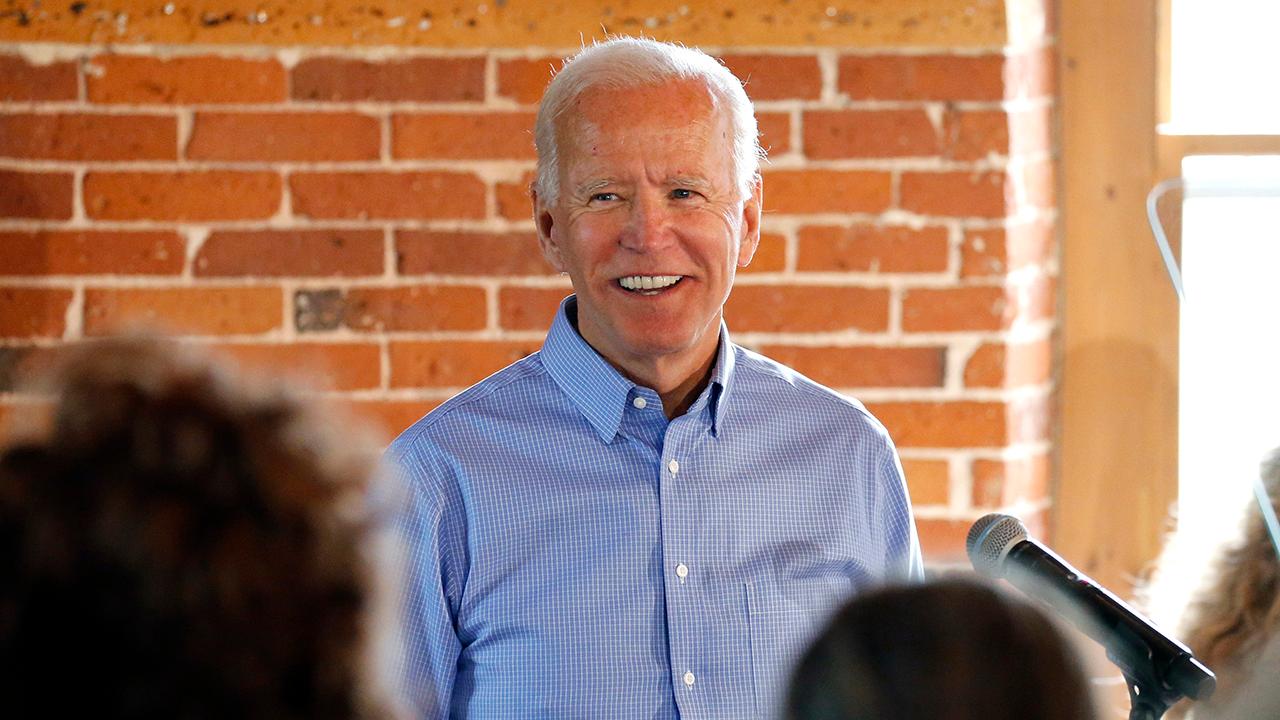 Biden bested Trump by nine points (48-39 percent) and had the only lead outside the poll's margin of error. Bernie Sanders was up by five points over Trump (45-40) and Elizabeth Warren had a four-point edge (45-41). In each case, the remaining 13-14 percent of undecided/third-party voters was enough to shift the race either way.
Trump received 41 percent support or less in each of the matchups -- well below the 47 percent he received when he won Wisconsin in 2016. At the same time, none of the Democrats hit 50 percent.
Fox News' Dana Blanton, Adam Shaw and Ronn Blitzer contributed to this report. 
This article was sourced from The Gateway Pundit
© 2021 DEMY Media, LLC