Soros, who famously shorted the British pound in 1992 and made a $1 billion profit, penned the op-ed in the Wall Street Journal. He said perhaps Trump's only foreign policy win during his presidency was "the development of a coherent and genuinely bipartisan policy toward Xi Jinping 's China," and his administration's move to declare Beijing a "strategic rival."
Soros also praised the administration's move to place Huawei on the Commerce Department's so-called "entity list," which prevents U.S. companies from dealing the telecom giant.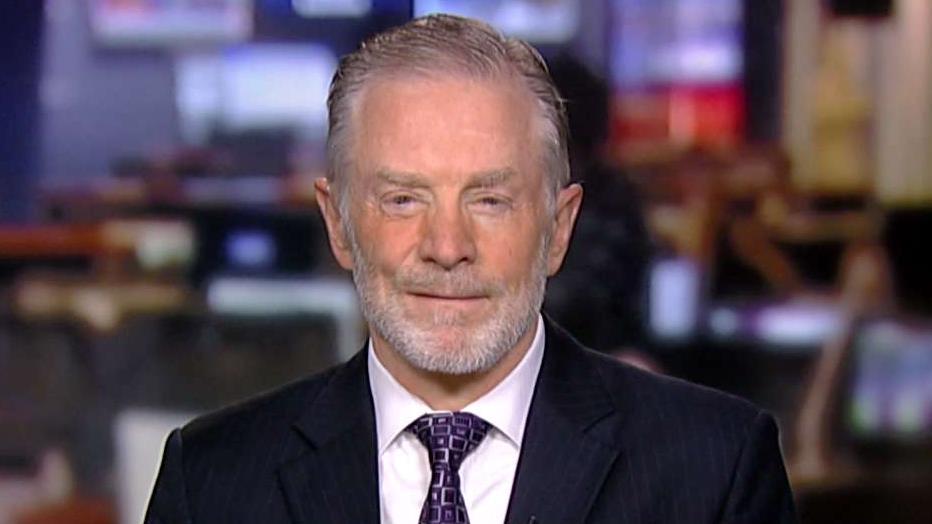 Huawei has called the action by the Trump administration a violation of "free-market competition."
RAND PAUL INVITES MANCHIN TO DEFECT FROM THE DARK SIDE
RAND PAUL INVITES MANCHIN TO DEFECT FROM THE DARK SIDE
Soros wrote about the tense competition in the 5G market and said the U.S. has a commanding lead over China. But he warned that Trump "may soon undermine his own China policy and cede the advantage to Beijing."
NO SCIENCE TO CALIFORNIA'S CRACKDOWN ON GAS
NO SCIENCE TO CALIFORNIA'S CRACKDOWN ON GAS
He said he believes Trump wants to free himself from any constraints by Congress and be able to remove Huawei from the list at his own discretion. China has insisted that Huawei be removed from the list as a prerequisite for any trade agreement.
WATCH: CHICAGO'S EVIL MAYOR VILIFIES COPS ON CAMERA
WATCH: CHICAGO'S EVIL MAYOR VILIFIES COPS ON CAMERA
"In my view, he wants to arrange a meeting with President Xi Jinping as the 2020 election approaches and make a trade deal with him, and he wants Huawei's status on the table as one of his bargaining chips," Soros wrote.
FACT: SUPPLY CHAIN CRISIS HURTING MOST AMERICANS
FACT: SUPPLY CHAIN CRISIS HURTING MOST AMERICANS
Soros called on Congress to act and pointed to Rep. Mike Gallagher,  R-Wis., and Sen.  Mitt  Romney, R- Utah, for introducing amendments that would require Congress' blessing for removal.
"As founder of the Open Society Foundations, my interest in defeating Xi Jinping's China goes beyond U.S. national interests," he wrote. "As I explained in a speech in Davos earlier this year, I believe that the social-credit system Beijing is building, if allowed to expand, could sound the death knell of open societies not only in China but also around the globe."
WATCH: DEM GUBERNATORIAL CANDIDATE WALKS OUT OF INTERVIEW AFTER TOUGH QUESTIONS
WATCH: DEM GUBERNATORIAL CANDIDATE WALKS OUT OF INTERVIEW AFTER TOUGH QUESTIONS
Group Attacking Kavanaugh And Other Trump Judicial Nominees Being Fueled By Dark Money From George Soros
This article was sourced from The Gateway Pundit
The left always says it wants dark money out of politics, but that's a lie.
We know it's a lie because they have no problem with accepting dark money from the left wing billionaire George Soros.
The Washington Free Beacon reports:
Soros Fuels Dark Money Judicial Group That Fights Kavanaugh, Trump Nominations
A "dark money" group that was established to push back against the judicial nominations of President Donald Trump, and which was at the forefront of the battle against Justice Brett Kavanaugh and continues to go after him to this day, was heavily financed by liberal billionaire George Soros around the time of its inception, grants show.
Demand Justice, a left-wing advocacy group, was established in 2018 and is led by Brian Fallon, the former press secretary for Hillary Clinton's failed 2016 campaign. The group does not disclose its donors and is a project of the Sixteen Thirty Fund, which falls under the umbrella of Arabella Advisors—an intricate dark money network containing dozens of liberal groups and projects. The network is used as a "pass through" entity for Democratic donors and has facilitated $1.6 billion in funds to liberal entities in recent years.
Due to Demand Justice's arrangement with the Sixteen Thirty Fund, which acts as its fiscal sponsor, it does not have to file annual tax forms to the Internal Revenue Service. Those who contribute to groups housed at the Sixteen Thirty Fund can also mark the money to the fund's name, where it is passed to the intended groups while ultimately masking the destination.
Just take a look at the group's Twitter feed:
On October 6, we're fighting back. Join the movement to #InvestigateKavanaugh: https://t.co/yQ116miNGGpic.twitter.com/hwcAeVPTat

— Demand Justice (@WeDemandJustice) September 9, 2019
No shocker here: Kavanaugh tops the list of Trump's worst judicial appointments because he has been credibly accused of sexual assault and lied repeatedly under oath: https://t.co/0VuqasQHn1

— Demand Justice (@WeDemandJustice) September 9, 2019
Trump's takeover of the courts will hurt generations of Americans. Senate Democrats, we're counting on you to oppose every one of these Trump nominees ↓ pic.twitter.com/EyfVtJc9e6

— Demand Justice (@WeDemandJustice) September 9, 2019
The left knows how important the courts are politically.
Unfortunately for them, Trump has already changed the judiciary for a generation or more.
Cross posted from American Lookout.
Media Ignore Soros' Lobbying for Gun Control in 2019
This article was sourced from NewsBusters
Liberal
billionaire George Soros has already spent $8,520,000 on lobbying this year, including cash for a gun-control effort, according to the Washington Free Beacon.
Through his Open Society Policy Center Soros' money helped advocate the repeal of the Protection of Lawful Commerce in Arms Act (PLCAA) that protects gun companies from lawsuits related to crimes committed with firearms. Liberal media outlets ABC, CBS, NBC, TheWashington Post and The New York Times all ignored Soros' 2019 lobbying between Jan. 1, 2019, and Sept. 3, 2019, according to a Nexis search.
Free Beacon reported on Sept. 3, that PLCAA protects gun companies if they are sued "for the harm solely caused by the criminal or unlawful misuse of firearm products or ammunition products by others when the product functioned as designed and intended." Repealing it would leave gun companies open to "frivolous lawsuits," which could "bankrupt" the entire industry, Free Beacon said.
The PLCAA does not shield gun manufacturers from all lawsuits, as The Blaze reported Sept. 3. Gunmakers can still be held liable for "defective manufacturing."
Soros' $5.92 million lobbyings in the second quarter of 2019 included support for Rep. Adam Schiff's (D-CA)"The Equal Access to Justice for Victims of Gun Violence Act," which seeks to repeal PLCAA and "provide for the discoverability and admissibility of gun trace information in civil proceedings."
The fact that every Democratic candidate is supporting repeal of the PLCAA flies in the face of the liberal media's whining about politicians being influenced by "special interests" and "lobbyists."
In the first quarter, Soros' spent $2.6 million lobbying on several issues including the repeal of the PLCAA, as well as international and military issues.
Not only did The Washington Post fail to report Soros's lobbying on gun control (or any other issue in 2019), it attacked the National Rifle Association for criticizing Soros about guns in the past. On April 26, 2019, the Postcomplained that in the early 2000s the NRA "was warning its members about Soros's supposed globalist anti-gun agenda."
The Trace, which is funded by fellow liberal mega-donor Michael Bloomberg's Everytown for Gun Safety organization, also characterized efforts to tie Soros to the gun-control lobby as "rumors" by the NRA to turn the mogul into a "useful villain" in 2018. The article was headlined "George Soros is Not the Gun Grabber the NRA Says He Is."
As of September 2019, OpenSecrets listed Soros as the second-highest donor to outside spending groups for 2019 behind struggling Democratic presidential candidate Tom Steyer. Soros had already donated more than $6.2 million to leftwing PACs, with the majority of it going to his newly-minted liberal super PAC Democracy Now.
OpenSecrets also listed Soros as the seventh-highest individual contributor for the 2018 election cycle in which he donated more than $20 million to liberal candidates, PACs and causes.
Soros-Funded St. Louis Circuit Attorney Kim Gardner Refuses to Charge Killer of 7-Year-Old Child Despite Suspect's Confession
This article was sourced from The Gateway Pundit
Far left billionaire George Soros has been systematically targeting district attorney races throughout the
United States
.
Several of his candidates have already won. His goal is to create havoc in communities. In St. Louis City far left lunatic Kim Gardner took money from Soros in her race for St. Louis Circuit Attorney. Soros funded PAC even released an ad in support of this far left and unqualified nutcase.
Kim Gardner won her election and is wreaking havoc on the city of St. Louis circuit attorney's office.
Kim Gardner is so intolerable that two dozen attorneys and more than one-third of the trial lawyers left the office when she was hired. And this is a Democrat dominated office.
In early January St. Louis Police arrested a drug dealer in possession of over 1,000 highly addictive opiate pills and more than $30,000 in cash.
The St. Louis police officers also got a confession from their suspect.
But when investigators brought their evidence to Gardner's Circuit Attorney's office in downtown St. Louis the attorneys REFUSED to press charges against the dealer and handed the
police
report back to the officers!
The entire event was captured on video!
Gardner refused to charge the drug kingpin because the detectives involved were on her "police exclusion list."
Kim Gardner created a list of originally 28 police officers but now the list is over 50 police officers who she will not accept their work because she claims they are racists.
Last week a suspect was arrested in the fatal shooting of 7-year-old Xavier Usanga in north St. Louis last Monday evening.
According to KSDK Usanga was shot and killed while playing outside of his Hyde Park home Monday, according to St. Louis Metro Police Cheif John Hayden. An 18-year-old man standing nearby was injured in the backyard of the Usangas' home, in the 3500 block of North 14th Street, just after 5 p.m. Monday evening.
The suspect confessed to the shooting that killed 7-year-old Usanga.
But when they brought this confession and evidence to the St. Louis City's circuit attorney's office Kim Gardner threw it out.
Gardner said based on current evidence she was not able to determine who was responsible for the child's death.
Again… The suspect confessed to the crime but that was not enough for this radical lunatic in the Circuit Attorney's Office.
This article was sourced from Foxnews
© 2021 DEMY Media, LLC