But President Trump, and his top aides, wanted to fight back in the press and on the Hill, especially after Kavanaugh showed White House counsel Don McGahn his decades-old calendars showing he hadn't attended a party where Ford alleged the assault had taken place.
In fact, according to a new book, Trump realized the nomination might fail in the latest #Me-Too frenzy, but if so they wanted to go down fighting.
The behind-the-scenes strategy is revealed in "Justice on Trial: The Kavanaugh Confirmation and the Future of the Supreme Court." The authors are my colleague Mollie Hemingway, a Fox News contributor and senior editor at the Federalist, and Carrie Severino, chief counsel of the Judicial Crisis Network, which fought for the nomination. They interviewed Trump, top White House officials and several Supreme Court justices, among many others.
WATCH: ISIS-K TAKES OVER AFGHANISTAN AS TALIBAN STRUGGLES
WATCH: ISIS-K TAKES OVER AFGHANISTAN AS TALIBAN STRUGGLES
The book describes a central conundrum for the judge and his advocates, which is that the team "understood that any criticism of Ford would be treated as a smear" and depicted as "victim shaming."
Although some of those who knew Ford shared details about her behavior in high school and college that were "dramatically at odds with her presentation in the media," the book says, the Kavanaugh team decided to focus on his record and the damage to his reputation. The book touches on some of those alleged details involving Ford.
WATCH: POMPEO WARNS AMERICAN ALLIES THAT BIDEN MIGHT NOT STEP UP IN TIME OF NEED
WATCH: POMPEO WARNS AMERICAN ALLIES THAT BIDEN MIGHT NOT STEP UP IN TIME OF NEED
The authors are extremely critical of the coverage of the nomination drama, including in the New York Times and Washington Post, and blame in part "the media's irrational personal dislike of Kavanaugh."
TEXAS ABORTION BAN GETS ANOTHER SHOT FROM COURT OF APPEALS
TEXAS ABORTION BAN GETS ANOTHER SHOT FROM COURT OF APPEALS
They particularly unload on the New Yorker for publishing the allegations of Deborah Ramirez, a Yale classmate of Kavanaugh who claimed that he exposed himself to her and caused her to touch his genitals. The magazine was unable to find a corroborating witness, acknowledging that Ramirez had "significant gaps" in her memories and that it took her six days of assessing those memories and consulting with a lawyer to name Kavanaugh. He flatly denied the allegations.
COURT PACKING ISSUES FORCE CONSERVATIVES OFF BIDEN COMMITTEE
COURT PACKING ISSUES FORCE CONSERVATIVES OFF BIDEN COMMITTEE
Soon afterward, Michael Avenatti, the lawyer now facing criminal charges in three cases, produced an affidavit from another accuser, Julie Swetnick. She claimed to have attended more than 10 house parties in the early 1980s at which Kavanaugh and a friend became inebriated and sexually assaulted women, and got them drunk so they could be gang-raped.
Hemingway and Severino call the allegations "obviously ridiculous," saying "no one could have hidden such crimes for decades, much less a man who went on to hold high-profile positions in the White House and then became a judge on the second-most prominent federal court." Kavanaugh said the charges were from "the Twilight Zone."
DESANTIS HAS A LAWSUIT READY FOR BIDEN
DESANTIS HAS A LAWSUIT READY FOR BIDEN
When NBC's Kate Snow interviewed Swetnick, the network acknowledged that some of her comments on camera "differ from her written statement last week." Swetnick backed off from saying Kavanaugh had spiked the punch, recalling only that he had handed out the punch. More important, she dropped her claim that Kavanaugh was present at her rape, saying only that she had seen him earlier at the same party.
"Despite Swetnick's obvious credibility problems, many in the media continued to air her accusations," the book says.
There was more: Avenatti gave NBC the name of a secret supporting witness, but refused to share it with the Senate Judiciary Committee. But when the woman totally undercut Swetnick's account—blaming Avenatti for twisting her words—the network sat on the story for awhile.
The authors, who obviously write from a conservative perspective, offer many examples of what they call "the media's irrational personal dislike of Kavanaugh." The Times published a story co-authored by Emily Bazelon, who had already announced her opposition to Kavanaugh, saying that in college he was involved in a bar fight that involved throwing ice. (The paper admitted Bazelon was not a newsroom reporter and should not have been used on the story.) In a USA Today column, Erik Brady said Kavanaugh should give up his school coaching duties because "credibly accused sex offenders" should "stay off basketball courts for now when kids are around."
The judge's staunchest supporter was his wife Ashley, who had prayed that her husband wouldn't get the nomination. Ashley sustained herself through the ordeal by praying regularly and studying the Bible.
When Sen. Susan Collins, a key swing vote, gave a lengthy speech saying she would vote to confirm Kavanaugh, Ashley made an emotional call to her husband and told him to watch it. Kavanaugh, who knew that it would have been easier politically for the senator to support him, texted her a message of thanks and promised that he would not disappoint her.
New Book On Kavanaugh's Confirmation Has Incendiary Allegations About Christine Blasey Ford
This article was sourced from InfoWars
A forthcoming book on Justice Brett Kavanaugh's confirmation to the
Supreme Court
relays incendiary allegations about Dr.
Christine Blasey Ford, excerpts obtained by The Daily Caller News Foundation show.
In "Justice on Trial" authors Mollie Hemingway and Carrie Severino say unnamed peers accused Ford of drinking to excess and accosting boys with some regularity as a student at the Holton-Arms School, a contrast with press accounts that cast her as innocent and naive during that period. Ford accused Kavanaugh of sexually assaulting her during a 1982 house party in suburban Maryland when they were high school students.
"Female classmates and friends at area schools recalled a heavy drinker who was much more aggressive with boys than they were," Hemingway and Severino write of Ford. "'If she only had one beer' on the night of the alleged assault, a high school friend said, 'then it must have been early in the evening.' Her contemporaries all reported the same nickname for Ford, a riff on her maiden name and a sexual act."
"They also debated whether her behavior in high school could be attributed to the trauma of a sexual assault," the authors added. "If it could, one of them said, then the assault must have happened in seventh grade."
The anonymous sources who shared those accounts were reluctant to come forward because "hostility to Kavanaugh made them fear for their livelihood if their names were attached to the stories," the authors wrote.
New account of Kavanaugh confirmation reveals clashes behind scenes of historic hearing
This article was sourced from Foxnews
In the moments before his make-or-break appearance before the Senate Judiciary Committee to dispute allegations of sexual assault in high school, then-Supreme Court nominee Brett Kavanaugh was getting sharply conflicting advice.
Some advisers and friends were urging Kavanaugh to embrace George W. Bush-like restraint in pushing back; others recommended a full-throated Trump-esque denial.
After one aide, on that September 2018 day of his testimony, suggested Kavanaugh be gentle in talking about accuser Christine Blasey Ford's allegations, a fired-up White House counsel Don McGahn demanded everyone leave the Capitol Hill war room where the nominee was preparing. "Everyone!" McGahn shouted, even prompting Kavanaugh's wife, Ashley, to get up, before being told she could stay.
These and other newly reported details about Kavanaugh's fiery confirmation process are included in the forthcoming book "Justice on Trial: The Kavanaugh Confirmation and the Future of the Supreme Court," written by Mollie Hemingway and Carrie Severino. The book is set for release Tuesday.
Kavanaugh, that day, opted for the latter approach. Visibly emotional and angry, Kavanaugh told senators on the Judiciary Committee that he was being falsely accused and his name had been "totally and permanently destroyed" by these "false" allegations.
He was responding to the testimony that same day from Ford, who maintained she's "100 percent" sure he tried to force himself on her 36 years earlier.
"Brett's assault on me drastically altered my life," Ford told the committee.
Kavanaugh's decision to discard deference for Democratic senators and passionately fight back against the allegations may have helped save his nomination. But the book reports that Kavanaugh's advisers were split on how he should approach that day.
"Kavanaugh had been deluged with advice until the end. His Bush friends, by and large, told him ... not to show too much emotion," Hemingway and Severino wrote. "But he received calls from a few senators encouraging him to show his righteous indignation."
Hemingway is a writer at the Federalist website and a Fox News contributor. Severino is the chief counsel of the conservative Judicial Crisis Network, which advocated for Kavanaugh's nomination.
The authors reported that McGahn, who worked to shepherd the nomination through Congress, was worried there were "too many people" telling Kavanaugh "too many things."
They also detailed how Kavanaugh tore up his planned opening remarks the day before the hearing, after anti-Trump lawyer Michael Avenatti went public with allegations from a client claiming Kavanaugh was involved in gang rapes in high school – an accusation Kavanaugh later dismissed as a "farce."
Kavanaugh finished writing his remarks the night before, the authors wrote, but made one addition the day of the testimony – adding a story about his daughter Liza saying they should pray for Blasey Ford.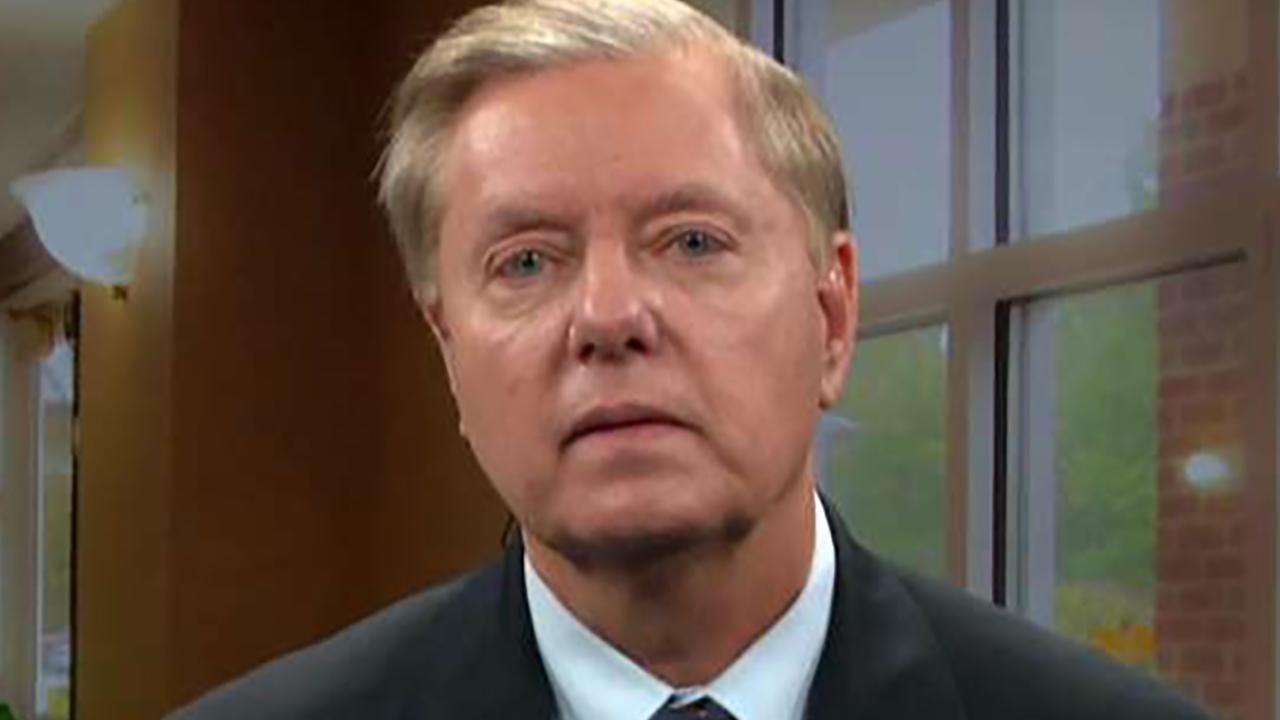 "He added a note with a black Sharpie permanent marker, his editing tool of choice. Having learned from practice that some parts of the speech would be hard to make it through, he had indicated with his Sharpie where to stop to breathe," the authors wrote.
The book acknowledges one misstep Kavanaugh made in front of the cameras that day after Minnesota Democratic Sen. Amy Klobuchar asked him if he's ever had so much to drink he could not remember the previous evening. "Have you?" an annoyed Kavanagh shot back.
During a recess, Kavanaugh's wife told him to clean up his comments.
"As soon as they returned to the holding room, McGahn told Kavanaugh it was time to reel it in," the authors wrote. "Ashley told Kavanaugh to calm down and encouraged him to find a way to address what he had said." Kavanaugh apologized to Klobuchar after the break.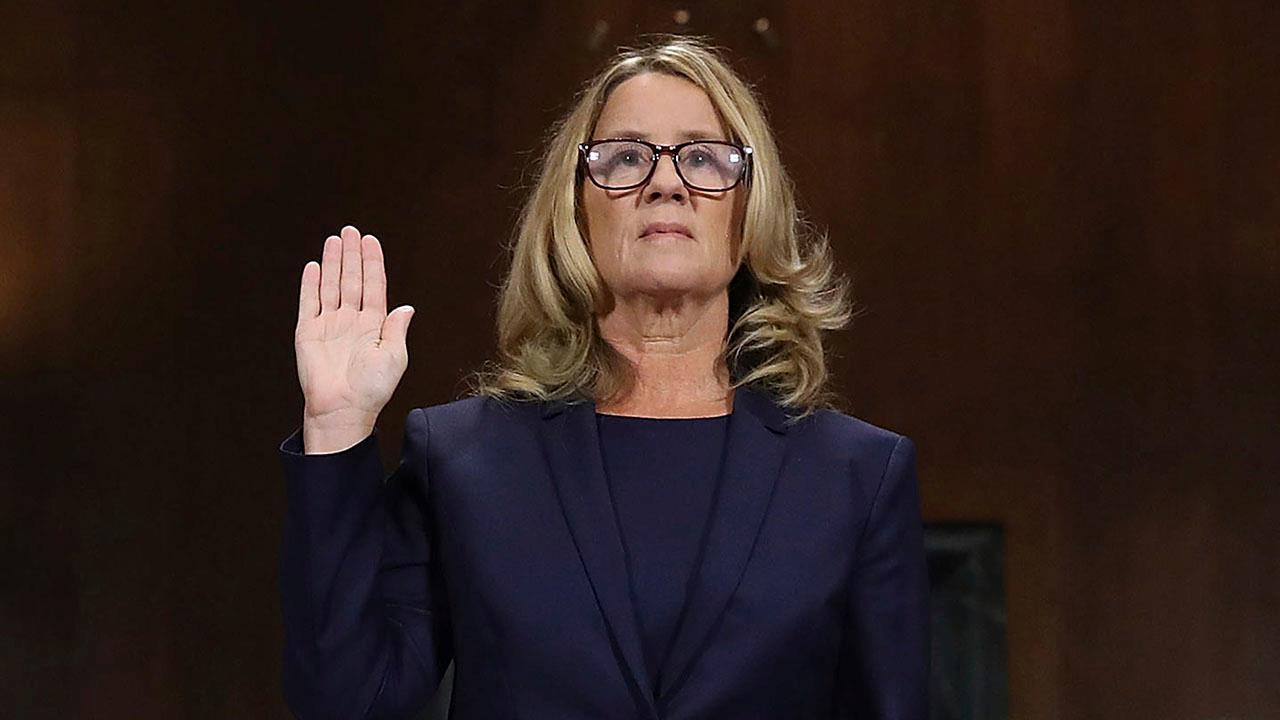 The book credits South Carolina Republican Sen. Lindsey Graham's defense of Kavanaugh during the hearing as a major turning point, saying it was "cathartic for those Americans whose views had been sidelined by the media in the previous two weeks." Graham raised his voice in calling the hearings the "most unethical sham since I've been in politics" and turning to Democrats said, "Boy, y'all want power. God, I hope you never get it."
After the explosive hearing, Kavanaugh took phone calls from both Trump and former President George W. Bush to "commend him for his testimony," the book said.
"Text messages and emails poured in from people he knew in high school, college, law school, the independent counsel's office, and the White House. He heard from people he knew during his clerkships and parents of children he had coached," the authors wrote. "It was a survey of his life's work, and it was reassuring and encouraging."
Fox News' Judson Berger contributed to this report.
This article was sourced from Foxnews
© 2021 DEMY Media, LLC