"After generations of discrimination, it's time to give Black families a real shot at homeownership," Harris tweeted on Saturday.
While appearing at Essence's Global Black Economic Forum, she emphasized the role of home ownership in driving the growth of wealth in the U.S. According to Harris' campaign, she would help 4 million homebuyers through down-payment and closing-cost assistance -- granting up to $25,000 from the Department of Housing and Urban Development.
"If we eliminate racial wealth disparities in home ownership rates, median Black wealth would grow $32,113 per household, and the wealth gap between Black and white households would shrink 31 percent," her campaign said.
The program would target residents in red-lined communities -- areas the Home Owners' Loan Corporation has dissuaded lenders from investing in --  which her campaign identified as a culprit behind wealth disparities.
WATCH: ISIS-K TAKES OVER AFGHANISTAN AS TALIBAN STRUGGLES
WATCH: ISIS-K TAKES OVER AFGHANISTAN AS TALIBAN STRUGGLES
"Redlining has resulted in households of color receiving just 2% of the [Federal Housing Administration] loans expanded between 1934-1962, and formerly redlined neighborhoods are sites of deep racial disparities in home value and lending activity," an information sheet from her campaign read.
Her plan would also seek to increase credit access by alter crediting reporting standards to include payments on credit cards, student loans, auto loans, and mortgage payments.
WATCH: POMPEO WARNS AMERICAN ALLIES THAT BIDEN MIGHT NOT STEP UP IN TIME OF NEED
WATCH: POMPEO WARNS AMERICAN ALLIES THAT BIDEN MIGHT NOT STEP UP IN TIME OF NEED
The announcement came after polling showed her advancing amid a dispute with the frontrunner, former Vice President Joe Biden, over comments he made about racial issues.
TEXAS ABORTION BAN GETS ANOTHER SHOT FROM COURT OF APPEALS
TEXAS ABORTION BAN GETS ANOTHER SHOT FROM COURT OF APPEALS
After she targeted Biden during the first Democratic primary debate, Biden's lead dropped in a Quinnipiac poll. That same poll showed Harris rising from 7 percent to 20 percent and leading Sen. Elizabeth Warren, D-Mass.
COURT PACKING ISSUES FORCE CONSERVATIVES OFF BIDEN COMMITTEE
COURT PACKING ISSUES FORCE CONSERVATIVES OFF BIDEN COMMITTEE
Racial issues have become a major topic as many Democrats accused the administration of bias against minorities. Former Rep. Beto O'Rourke, D-Texas, also sought to address racial wealth disparities with a plan that would vastly expand the federal government's investment in women- and minority-owned businesses.
DESANTIS HAS A LAWSUIT READY FOR BIDEN
DESANTIS HAS A LAWSUIT READY FOR BIDEN
The 2020 hopeful claimed his plan would "unlock over half a trillion dollars" in resources and "spur the development of 200,000 new women and minority-owned small businesses."
It also would redirect $100 billion in federal contracting toward small businesses, expand access to mentorship opportunities, open a public credit reporting agency and work through certain avenues to expand access to markets and capital.
Biden bucks Dem 2020 field on court packing, decriminalizing border crossings
This article was sourced from Foxnews
Former Vice President Joe Biden on Friday appeared to try and create some distance from the rest of the 2020 Democratic primary field as he ruled out packing the Supreme Court with more judges and made it clear that he is against decriminalizing border crossings.
"No, I'm not prepared to go on and try to pack the court, because we'll live to rue that day," the Democratic frontrunner told Iowa Starting Line.
A number of 2020 hopefuls have floated the idea of increasing the number of Supreme Court justices in response to a conservative dominance on the court, as well as long-standing grievances about how Obama-era nominee Merrick Garland was denied a hearing by the Republican-controlled Senate in 2016.
Several Democrats on the campaign trail, including former Rep. Beto O'Rourke, and Sens. Cory Booker, D-N.J., Elizabeth Warren, D-Mass., Kamala Harris, D-Calif., and Kirsten Gillibrand, D-N.Y., have signaled their openness to expanding the number of judges on the court if they enter the White House. Sen. Bernie Sanders, I-Vt., has opposed court packing but suggested rotating judges to other courts.
While court packing is an extreme idea, it is one of a number of once-fringe ideas that are now part of the 2020 conversation as Democrats select their candidate to face off against President Trump. Other ideas include health care for illegal immigrants, free college, reparations for slavery and an expansive "Green New Deal."
In the primary debate last week in Miami, candidates were asked about the question of illegal border crossings and if they supported making such crossings a civil offense. Most of the candidates on stage raised their hands, but Biden sought to clarify and gave an unclear answer.
In a Friday interview with CNN, he said more clearly that he does not support such a proposal.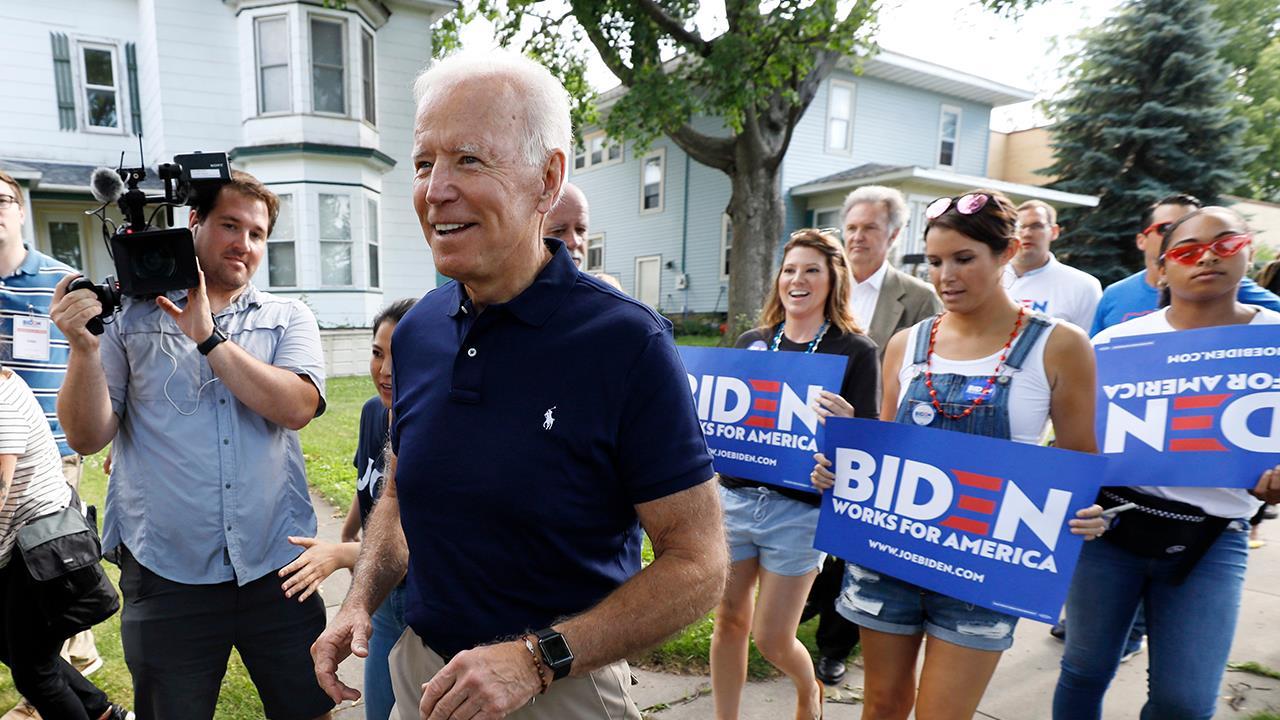 "No I don't. I think people should have to get line. But if people are coming because they're actually seeking asylum, they should have a chance to make their case," he said.
In that interview, he also distanced himself from what he described as a "scrum" in the debate.
"Do you think the American public looked at that debate -- take me out of it -- and thought 'Boy, I really like the way that's being conducted. They're really showing themselves to do really well'?" he asked. "Come on, man."
But he said in the same interview he said he does support health care for illegal immigrants, as he had indicated in the debate a week earlier.
"I think undocumented people need to have a means by which they can be covered when they're sick. And so the idea is: That's what I think we should be doing by building more clinics around the country, not just for undocumented [but] for other people when they're ill, when they're sick," he said. "This is just common decency."
Although he is embracing, cautiously, a few of those ideas once seen only in the left-wing fringes of the party, he also warned his party that the only way to win against President Trump was by being a moderate, not by embracing the more radical stances of Democrats, such as those held by freshman Rep. Alexandria Ocasio-Cortez, D-N.Y.
"By the way, I think Ocasio-Cortez is a brilliant, bright woman, but she won a primary. In the general election fights, who won?" he asked. "Mainstream Democrats who are very progressive on social issues and very strong on education and health care."
"My north star is the middle class; when the middle class does well, everyone does well," he added.
Elizabeth Warren: Tax on Rich Will Pay for Day Care for Every Newborn in U.S.
This article was sourced from Breitbart
Democrat 2020 contender Elizabeth Warren promised teachers' union members Friday she would tax the wealthy to provide free day care for every newborn in the country. The senator from Massachusetts told members of the National Education Association (NEA) at a 2020 forum in Houston she would enact a two cent per dollar tax on every $50 million levied against 75,000 of the top earners in the
United States
.
Courthouse News Service reports:
The tax would raise more than $1 trillion, Warren said, enough to pay for child care for every baby in this country from newborns to 5 year olds, universal pre-kindergarten for every 3-and-4-year-old child, and tuition-free technical school, community college and four-year college for everyone who wants a higher education.
"Plus, we can cancel student loan debt for 95% of people," Warren added.
The Washington Examiner noted that a Moody's Analytics report found Warren's plan would cost an additional $700 billion over the next decade:
How will you make it possible for teachers to earn enough to support themselves on their teaching salary alone? #StrongPublicSchools

Here's what @ewarren had to say: pic.twitter.com/9AxcodMIAR

— NEA Education Votes (@edvotes) July 5, 2019
Warren also called for strengthening teachers' unions.
"Make it easier to join a union, and give those unions more power when they come in to negotiate," Warren said to applause.
The NEA is the nation's largest teachers' union. The union criticized the Obama administration for its emphasis on high-stakes testing. The Common Core State Standards – originated soon after former President Barack Obama took office – required teachers to be evaluated, in part, based on the performance of their students on Common Core-aligned assessments.
Education Week reported Warren was asked how she would end high-stakes testing.
"This notion that it's all about testing – that it's all about what someone far off in the state capital and the national capital says, 'Here's what constitutes success and worse yet, here's what constitutes failure,'" she responded. "No, that's not what education is about. Education is what goes on in the classroom, what a teacher has set as the goal, and when a child gets there, it is the teacher who knows it – we do not need high-stakes testing."
Biden Threatens To Assault President Trump With A 'Smack In The Mouth'
This article was sourced from TheFederalistpapers
Former Vice President Joe Biden fancies himself as some kind of tough street fighter who could defeat President Donald trump in a fight.
In an interview with CNN host Chris Cuomo on "Cuomo Prime Time" on Thursday he threatened to hit the president, and it is not the first time.
"You walk behind me in a debate, come here man. You know me too well. The idea that I'd be intimidated by Donald Trump?" he said.
Joe Biden says he's looking forward to a chance to "slap @realDonaldTrump in the mouth" during a presidential debate.

"You walk behind me in a debate, come here, man. You know me too well. The idea I'd be intimidated by Donald Trump? He's the bully that I knew my whole life." pic.twitter.com/QaDVHlSM50

— Washington Examiner (@dcexaminer) July 5, 2019
"He's the bully that I knew my whole life. He's the bully that I've always stood up to. He's the bully [that] used to make fun [of me] when I was a kid and I stutter and I'd smack him in the mouth," he said.
He made many threats in the interview, and one of which was directed at his fellow Democrats, in particular Sen. Kamala Harris.
President Trump was informed by reporters of the former vice president's threat and responded the way a statesman should.
"I don't think I'm a bully at all. I just don't like being taken advantage of by other countries, by pharmaceutical companies, by all of the people that have taken advantage of this country," he said.
"You look at what Joe Biden has done with China, we've lost our shirts with China, and now China is dying to make a deal," he said.
Should Secret Service investigate Biden? YesNo Completing this poll entitles you to our news updates free of charge. You may opt out at anytime. You also agree to our Privacy Policy and Terms of Use. You're logged in to
Facebook
. Click here to log out. 0% (0 Votes) 0% (0 Votes)
"We're taking, by the way, billions and billions of dollars in tariffs are coming in and China's paying for it, not our people," he said.
"So if you look at what he's done, and if you look at what we've straightened out—I call it the Obama-Biden mess," he said.
"We're straightening it out, whether it's North Korea—You were going to end up in a war with North Korea, as sure as you're standing there, and now the relationship is a good relationship, we'll see what happens," he said.
Biden has threatened to hit the president in the past, in one instance he threatened to fight him behind the gym of a school.
Crazy Uncle Joe Biden is at it again, and this time he said he'd like to fight Donald Trump "behind the gym." Trump responded, "Some things in life you could really love doing," according to the U.K. Daily Mail.
Biden, who usually has his hands full groping any women and children that are in his vicinity, got upset when asked about comments Trump made 11 years ago on tape about women. Creepy Uncle Joe got so upset when asked if he would like to debate Trump that he said that he wished he could go back to high school because he "could take him behind the gym."
It seems like Biden's comments were a skosh defensive, probably because unlike Trump, who just talked about being able to grope women who would be willing because of his star status, Biden is actually on camera groping women and children.
Advertisement - story continues below
But what does the media do? "Oh that's just Uncle Joe, he's harmless. Wait, just don't sit on his lap, okay? Or get in his van. Isn't he charming?"
Trump wasn't too concerned about creepy Joe and his empty threats. At a rally in Florida on Tuesday, Trump responded to gropey Biden's blowhard comments, courtesy of the U.K. Daily Mail:
Facebook has greatly reduced the distribution of our stories in our readers' newsfeeds and is instead promoting mainstream media sources. When you share to your friends, however, you greatly help distribute our content. Please take a moment and consider sharing this article with your friends and family. Thank you.
This article was sourced from Foxnews
© 2021 DEMY Media, LLC