At the time, Jackson was running for the Democrat presidential nomination and had just bested both Walter Mondale, the eventual nominee, and Gary Hart in the Louisiana primary. The remarks were reported by the Washington Post when they occurred and recently highlighted on social media.
"He is one of the brightest guys around," Biden said when asked how Jackson's presidential campaign that year would impact the Democrat Party. "That boy ain't no dummy, just like Gary Hart, that boy ain't no dummy either."
Biden was later forced to clarify that his remark "was not intended to be racially derogatory" and that he had also referred to Hart as "boy."
RAND PAUL INVITES MANCHIN TO DEFECT FROM THE DARK SIDE
RAND PAUL INVITES MANCHIN TO DEFECT FROM THE DARK SIDE
NO SCIENCE TO CALIFORNIA'S CRACKDOWN ON GAS
NO SCIENCE TO CALIFORNIA'S CRACKDOWN ON GAS
WATCH: CHICAGO'S EVIL MAYOR VILIFIES COPS ON CAMERA
WATCH: CHICAGO'S EVIL MAYOR VILIFIES COPS ON CAMERA
FACT: SUPPLY CHAIN CRISIS HURTING MOST AMERICANS
FACT: SUPPLY CHAIN CRISIS HURTING MOST AMERICANS
DEMS QUIT USING IRS TO CRACK DOWN ON CITIZENS
DEMS QUIT USING IRS TO CRACK DOWN ON CITIZENS
Joe Biden once referred to Democratic presidential candidate Rev. Jesse Jackson as "that boy." pic.twitter.com/NXW7mTqkWt

— Walker Bragman (@WalkerBragman) June 20, 2019
On Tuesday, Biden elicited widespread controversy after offering praise for the late-Sens. James Eastland (D-MS) and Herman Talmdage (D-GA) at a fundraiser in New York City. Biden mentioned the two men while touting his ability to form "consensus," but he did not express what they were able to accomplish together.
"I was in a caucus with James O. Eastland,"
Biden
told donors, attempting a Southern drawl. "He never called me boy, he always called me son."
"Well guess what?" the former vice president continued. "At least there was some civility. We got things done. We didn't agree on much of anything. We got things done. We got it finished. But today you look at the other side and you're the enemy. Not the opposition, the enemy. We don't talk to each other anymore."
Biden's praise of Eastland and Talmadge drew fire, as both men were segregationists that spent their careers fighting against civil rights and integration. Eastland, whom Biden has praised as a friend and mentor, was called the "voice of the white South" for his support of Jim Crow and propensity for referring to African Americans as "an inferior race."
Sen. Cory Booker (D-NJ), a fellow White House contender, rebuked Biden on Wednesday for having joked about using the term "boy" when offering praise for segregationists.
"You don't joke about calling black men 'boys,'" Booker said, adding that "relationships with proud segregationists are not the model for how we make America a safer and more inclusive place for black people, and for everyone."
Scandal over: John Lewis defends Biden's "civility" towards segregationists in the Senate
This article was sourced from Hot Air
Sweet fancy Moses on a crutch. Imagine being Cory Booker or Kamala Harris, having just been gift-wrapped an opportunity by Biden to make inroads with his base of black voters in South Carolina, waking up to see the one guy in Congress whom the party accords Absolute Moral Authority on race going to bat for him.
Imagine being any Biden-hating progressive, really, and watching this.
Rep. John Lewis on Joe Biden: "I don't think the remarks are offensive." https://t.co/TtxSgWXjwppic.twitter.com/Gh1z0xNUCS

— The Hill (@thehill) June 21, 2019
A wrenching, unimaginable choice now presents itself to the Woke Brigades: Do they dare attack John Lewis for Crimes Against Wokeness?
Socialist revolutions traditionally aren't very discriminating about whom they purge, you know. If certain heroes of progress from an earlier era need to be liquidated for the good of the cause, well, Lewis wouldn't be the first idol to be smashed in the name of Total Equality.
Fingers crossed that Lewis's colleague in Congress, former Black Panther Bobby Rush, ends up as the presiding judge at his Woke Show Trial:
Rush, a high-profile activist during the height of the civil rights movement, told POLITICO in an exclusive statement that Biden's remarks at a New York fundraiser earlier this week were "wholly out of touch."
"You would think that after eight years of serving as Vice President under President Obama, Biden would get it, that his frame of reference would be more audacious for the future and less on the obvious incrementalism of the past," Rush said. "With his statement he has demonstrated that he is wholly out of touch and woefully ignorant of the nuances of the black American experience and that is, in itself, beyond disappointing."
One point Lewis will inevitably be challenged on is that Biden wasn't merely cordial to segregationist colleagues like James Eastland and Herman Talmadge. He worked with Eastland on legislation opposing busing to end school segregation, a good issue for a working-class white senator in the 1970s but a bad issue for a would-be Democratic presidential nominee in 2019. How many racial sins is Lewis prepared to forgive? The hang-'em-for-jaywalking crime bill too?
Warren Henry has a smart piece at the Federalist today flagging the many reasons lefties want might want to ding Biden for nostalgia about "civility" with segregationists. There are the obvious reasons — genuine outrage, opportunism on Bernie's and Warren's behalf, reminding the world that Dems were the party of segregation — but there are strategic reasons too.
Fourth, and perhaps most important, attacking Biden as a segregationist sympathizer allows the left to dodge the substance of what he actually said. In addition to criticizing the "you're the enemy" attitude of our current politics, Biden added: "I know the new New Left tells me that I'm ― this is old-fashioned. Well guess what? If we can't reach a consensus in our system, what happens? It encourages and demands the abuse of power by a president. That's what it does."
The new New Left understandably does not like being attacked in this way, particularly while Biden is leading in the polls. The new New Left have abandoned Rev. Martin Luther King Jr's frame that the American experiment is great and black Americans want to fully participate in it. Instead, the left is embracing an identity politics rooted in the idea that America is irredeemably founded in white supremacy and plunder and thus must be torn down in favor of some revolutionary replacement.
Politics is often called the art of compromise, but identarianism politicizes All The Things and renders every disagreement a personal attack. Ironically, Biden is critiquing the reasoning by which President Obama tried to use his "phone and pen" to unconstitutionally make immigration policies Congress rejected.
The left doesn't want to compromise, the left wants to win. The whole point of nominating and electing Bernie in their minds is that it will hand him an unambiguous mandate to remake America on a socialist model. They're done with neoliberal half-measures in governance. Yet here's Biden claiming that he'll not only work with others to achieve half-measures, he'll work with … Mitch McConnell.
But there's a strategic benefit beyond even that, claims Noah Millman. In a way, Biden's comments about making nice with segregationists corrects one of Hillary's most notorious blunders from Election 2016.
[T]o win big, any Democrat is going to need the votes of those so-called deplorables. For that reason, the only useful thing about his comments was that he chose as examples not people whose views are still controversial, but people whose views are so thoroughly, utterly and rightly deplored by today's Democrats (and, I would guess, by more than a few Republicans) that if they were still living they would be completely beyond the pale. The message can't be missed: no matter how heinous your views, no matter how fervently I disagree with you, I will never consider you untouchable.
No one's so deplorable that Uncle Joe won't sit down with them for a beer. Not a bad message for Rust Belt voters who still hold a grudge against Hillary for her condescension.
Here's a much more subdued Cory Booker discussing a phone call he had with Biden after he slammed Biden's segregationist comments. It was smart of the former VP to place that call. Booker doesn't seem like the kind of guy who's comfortable knifing a fellow Democrat, particularly one whom he knows and likes. Having Biden pay him the respect of calling him must have made him even more reluctant.
WATCH: Sen. Cory Booker discusses his phone call with Joe Biden, following dust up following the vice president's comments on working with segregationists. https://t.co/CYDFLtP6vTpic.twitter.com/mtZqFeK8Ia

— MSNBC (@MSNBC) June 21, 2019
Greg Gutfeld: Biden 'made his bed,' can't complain about attacks from fellow Dems
This article was sourced from Foxnews
Former Vice President Joe Biden's prior criticisms of his political opponents makes it hard to feel sorry for him in the wake of attacks from some fellow 2020 Democratic hopefuls, according to Greg Gutfeld.
Speaking Friday on "The Five," Gutfeld noted Biden has slammed President Trump and 2012 Republican presidential nominee Mitt Romney in regard to race - and therefore he should not be immune from criticism of his own language.
"I feel bad for Joe until I remember that he has pulled the very same crap on Republicans repeatedly," Gutfeld said of the former vice president taking heat over comments he made about segregationist former senators.
"The smear machine created by the left is that crocodile that will ultimately eat everybody, and you'll think you will be safe, but it will eat you too.
"He is the one that said Trump didn't condemn white supremacy - when he did. He also said Romney was 'going to put you all back in chains' ... He's made his bed with the smear machine, and unfortunately, he's got to lie in that bed."
Gutfeld pointed out Biden condemned Romney during a 2012 stump speech in Danville, Va. -- where the then-vice president criticized the now-Utah senator's comments about easing Wall Street regulations.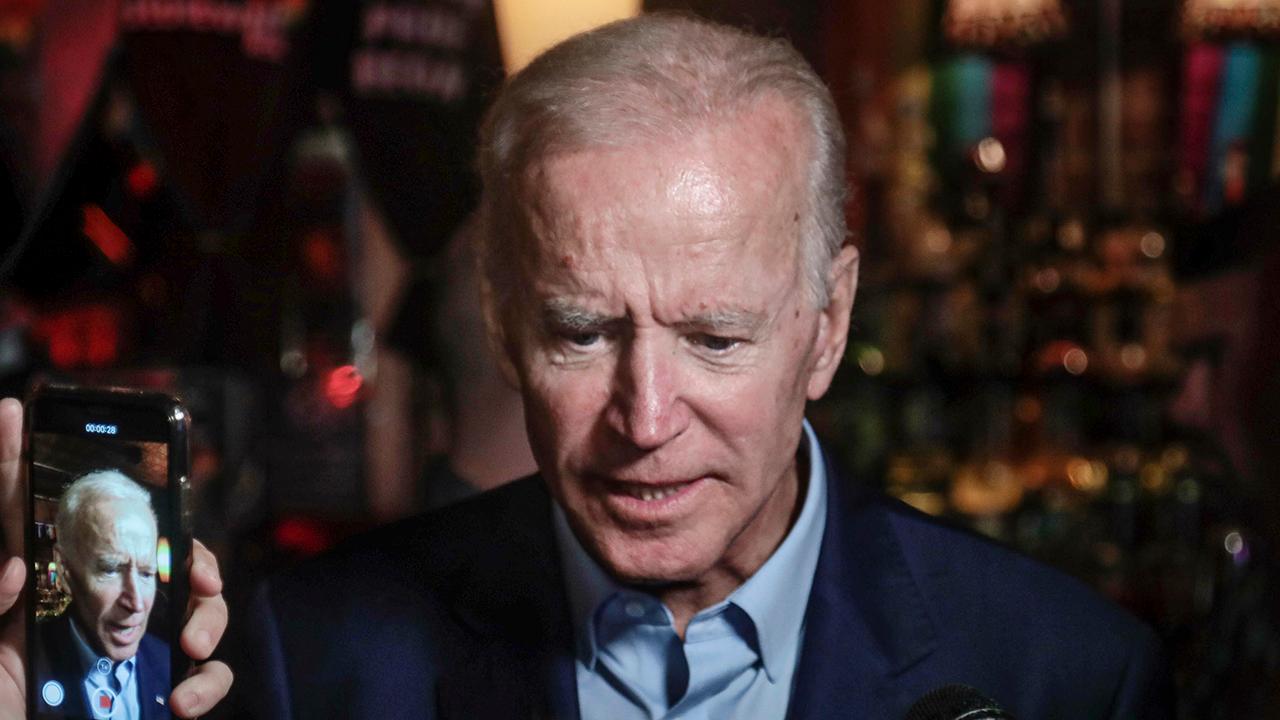 "He said in the first 100 days, he's going to let the big banks once again write their own rules," the former Delaware senator remarked.
"Unchain Wall Street. They're gonna put y'all back in chains."
Gutfeld also pointed to remarks Biden made in April criticizing Trump's reaction to what has been called a white nationalist rally Charlottesville, Va. in 2017.
"Give me a break," the Democrat said. "Enough's enough, man."
"It's nonsense. The very rally was advertised - advertised - as a white supremacist rally. Anti-Semitic chants were clear. Hatred was on the march and he knew it."
This article was sourced from Breitbart
© 2021 DEMY Media, LLC