And then they start telling themselves a story to justify their being trapped which is, 'Yeah, he's awful but the country needs me,'" Comey told host Anderson Cooper.
Cooper brought up Rosenstein as Comey was responding to a question about a recent op-ed he penned, in which he wrote that the president "eats your soul in small bites."
"Republicans are doing this in Congress. 'Yeah, it's awful, but if I speak I'll get defeated and this nation needs me here right now.' So they start to make little compromises to stay on the team. Talk about collusion, saying that's what I need to do to survive and in the process, he has eaten their soul, they're lost. So that's what happens to so many of people," Comey said.
Rosenstein was honored with a Department of Justice send-off on Thursday, after submitting his resignation to President Trump last month. His departure will reportedly take effect Saturday.
Thursday was also the second anniversary of Trump firing Comey from the FBI.
Attorney General Bill Barr, former Attorney General Jeff Sessions, and FBI Director Christopher Wray were on hand at the Rosenstein farewell, touting his record and character throughout his career, but specifically over the last two years.
Rosenstein fell into the political crosshairs throughout his tenure and was on the receiving end of the president's ire over the Russia investigation. Rosenstein had taken over oversight of the investigation after Sessions recused himself from the probe -- a decision that infuriated Trump.
It was early on in Rosenstein's oversight of the probe, in May 2017, that Trump fired Comey. Just a week later, Rosenstein appointed Special Counsel Robert Mueller -- Comey's former boss at the FBI. Rosenstein watched over the probe until November 2018, when former acting Attorney General Matthew Whitaker took over. Whitaker was ultimately replaced by Barr.
On CNN's Thursday telecast, Comey also told Cooper that he tried to avoid becoming like Rosenstein and other "co-opted" members of the administration by openly disagreeing with President Trump in the Oval Office.
According to Comey, Trump was equating the U.S. to "killers" like Russian President Vladamir Putin.
"And among the words were his saying we are the same kind of killers that Vladimir Putin is. He was defending his moral equivalency between us and Putin and I interrupted and said, 'Mr. President, no, we're not the kind of killers that Putin is,'" Comey said.
Fox News' Brooke Singman contributed to this report.
Comey Has Temper Tantrum Over Investigations, Sen Says 'He Should Be Worried'
This article was sourced from TheFederalistpapers
Republican Louisiana Sen. John Kennedy responded to and interview with former FBI Director James Comey and he said he should be frightened.
The senator was on Fox News on Wednesday and was responding to an interview Comey had with CBS minutes before.
In the interview Comey appeared to be afraid and was having a tantrum over the use of the word spying by Attorney General Bill Barr.
"Attorney General Bill Barr said he believes spying occurred in looking after the president's then campaign. What do you think about that?" CBS said.
"I have no idea what he is talking about. The F.B.I. Doesn't spy, the F.B.I. Investigates," Comey said of the information that the FBI did spy on President Donald Trump's campaign.
"We investigated a very serious allegation that Americans might be hooked up with the Russian effort to attack our democracy. The Republicans need to breathe into a paper bag," he said.
But it is Comey, who has become more of a politician since being fired as FBI Director, who should be more concerned.
Should Comey be in prison? YesNo Completing this poll entitles you to our news updates free of charge. You may opt out at anytime. You also agree to our Privacy Policy and Terms of Use. You're logged in to Facebook. Click here to log out. 0% (0 Votes) 0% (0 Votes)
"I think it's clear to most Americans that Mr. Comey is not and never was a law enforcement professional. He is just a hack politician," Kennedy said.
"It doesn't give me any joy to say that. I think he is worried, and he should be, that Mr. Barr and the inspector general are going to look further into the genesis of the investigation of the Trump campaign.
"And the investigation of the Clinton campaign. And I think they'll find that all roads lead to Mr. Comey.
"Why he did what he did, I don't know. But it is breathtaking to the extent that he has hurt the F.B.I., which is the premier law enforcement agency in all of human history and which we need to work hard toward getting their reputation back thanks to Mr. Comey's tarnishing of that agency," he said.
"I think all roads lead back to Mr. Comey. Mr. Comey is not the only one up here in Washington, but he is part of the Washington insider political elite.
"They think they're smarter than the American people. They think they're more virtuous than the American people.
"They didn't think the American people in 2016 were smart enough to pick a president. So Mr. Comey and others tried to put their thumbs on the scale and he has hurt a lot of people and he has hurt a lot of important institutions to our system of government in the process.
Advertisement - story continues below
"I think Mr. Comey is lashing out now because he knows what's coming," Kennedy said of Comey's interview with CBS News.
Facebook has greatly reduced the distribution of our stories in our readers' newsfeeds and is instead promoting mainstream media sources. When you share to your friends, however, you greatly help distribute our content. Please take a moment and consider sharing this article with your friends and family. Thank you.
Sean Hannity, Gregg Jarrett unload on 'by the book' James Comey: 'You have the right to remain silent'
This article was sourced from Foxnews
Fox News' Sean Hannity and Gregg Jarrett had strong words for former FBI Director James Comey following his CNN town hall appearance Thursday -- which was held on the second anniversary of Comey being fired by President Trump.
"Hey, Jimbo, you signed a FISA application to spy on Carter Page and the entire Trump campaign. By the way, I have warned you before. You know what, Jim, you have the right to remain silent. I would start using that right," Hannity said on his nightly program, "Hannity."
The host was reacting to Comey's claim that he did everything "by the book" when it came to the Russia investigation.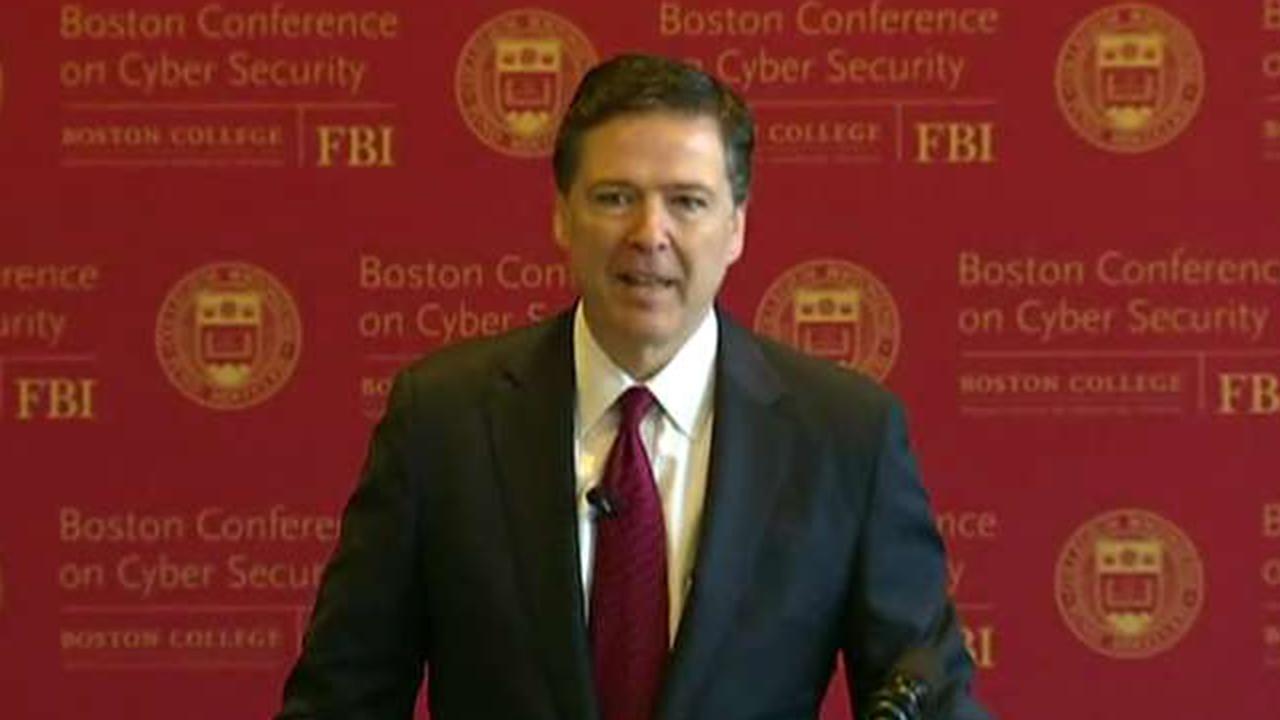 "Are you confident you did everything by the book and that the FBI, the people around you did everything by the book?" CNN host Anderson Cooper asked Comey.
"Yes, no doubt in my mind. That does not mean that I am against review of it. That is totally fine," Comey responded.
Hannity's guest, Fox News legal analyst and commentator Gregg Jarrett, also delivered some pointed remarks.
"You play the clip that he said he went by the book. That is also a lie to the American public. James Comey is now swinging these wild haymakers because he knows that very soon he is going down on the canvas for a ten-count," Jarrett said.
"He is in a deep, serious legal jeopardy," Jarrett continued. "For lying to a FISA court, leaking government documents that he stole, starting an investigation without credible evidence, spying on the Trump campaign and making false statements to Congress.
"I hope that he saved all of the money that he made from that phony book of his. ... Because he will need the money for his defense team. "
This article was sourced from Foxnews