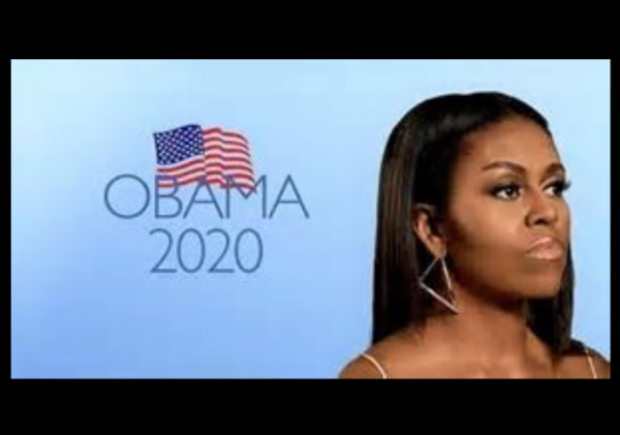 Michelle Obama has repeatedly said she doesn't want to run for president, and she will not run for president.
I believe her. But her husband once made a declaration that he would not run for president, until he did.
We have been on Michelle-for-President-watch longer than just about anyone else:
Get Ready for Michelle Obama 2020 (September 10, 2017)Michelle Obama 2020. Yes She Can. But will she run? (January 29, 2018)Michelle Obama 2020 coming into focus with Memoirs release just after 2018 midterms (February 25, 2018)Michelle Obama may be best Dem hope for 2020, but says she doesn't want the job (April 7, 2018)Rasmussen Poll: Michelle Obama would beat Trump (November 19, 2018)Michelle Obama's Grammys Buzz – A reminder of the mediocrity of Democrat presidential candidates (February 11, 2019)With Bread Line Bernie rising, expect Michelle-mentum (February 21, 2019)
The logic of Michelle as Hail Mary Pass is as clear as it ever was. At least to me.
The Democratic field is expanding, with Joe Biden set to announce tomorrow, if someone remembers to wake him up.
And therein lies the problem. It's Bernie's nomination to lose. He may lose, but there's no obvious person, other than Biden perhaps, who can stop him.
I don't believe that establishment and non-lunatic Democrats will allow a Bernie nomination. Bernie as nominee would be extraordinarily risky to Democrats. He's not only a socialist, he wants the Boston Bomber to be able to vote from prison!
Is there any doubt for whom, as between Trump and Bernie, the Boston Bomber would vote? Republican attack ad makers never had it so easy.
Bernie's chance of beating Trump is more than zero, which will turn out Republican voters. As unthinkable as Trump was to liberals, Bernie is to non-liberals. That hurts, not helps, Bernie's chances. Democrats were lulled into believing that Trump couldn't win because they lived in a liberal media bubble, Trump supporters and non-socialists live in reality and they will vote.
Bernie may inspire his lunatic anti-Israel, anti-capitalist, pro-socialism base, but they can't win a national election for Bernie. Trump hatred will help any Democrat candidate, for sure, but even many Democrats acknowledge that won't be enough. The people who hate Trump now are pretty much the people who hated Trump in 2016.
Faced with the likelihood of 4 more years of Orange Man Bad, the loss of the House, and continued Republican control of the Senate, what will Democrats do? Will they march off a cliff behind Crazy Bernie, or lead an insurrection?
For Obama Democrats the stakes are even higher. Trump has not managed to wipe out the Obama legacy completely, in part because the lower federal courts have stymied him. A second Trump term could mean the everlasting wipeout of the Obama legacy.
You know who cares about the Obama legacy? Mr. Obama.
Mr. Obama says he will not endorse early in the primaries, and may not endorse at all during the primaries. Curious.
If Biden looks likely to win the nomination, I expect the Obamas to fall in line behind him. But if not, all bets are off.
Rush made this point today:
RUSH: Portland, Maine. This is Bob. I'm glad you called, sir. Welcome to our program. Hi.
CALLER: Hi, Rush. First-time caller, longtime listener.
RUSH: Yeah.
CALLER: Yeah. I was just wondering, alluding back to what you said earlier about how the Democrats really don't have anybody that's electable. My wife brought this up to me the other day. What do you think about them at the last moment, as a dark horse, putting in Michelle Obama, where —
RUSH: You know, I go back and forth on this.
CALLER: Do you? I wonder if the… (crosstalk) Okay. I was just wondering if, you know, the ghost government, you know, if they can still — like Obama, can still — kind of control a situation (unintelligible).
RUSH: Oh, see, I think that's it. I am convinced that The One wants back in. I think The One is sitting there seething over the dismantling of his agenda and the Trump verbal assault on it every day. But he can't run again. And they got the Michelle book out there. It sold very well. That will tell them that she is immensely popular. If they are thinking about it, there is no way that they're gonna get in this soon.
They're gonna let these people eat each other up and spit each other out, beat each other up because this is gonna happen. You can't avoid this. Every one of these candidates wants the nomination. Some of them, no, they're not gonna get it and they're doing it for other reasons. But there are enough people in this race that really want it. And enough of them who really think they can get it….
So they're gonna be ripping each other apart, and in some cases they're gonna be doing lasting damage in terms of presidential-electability. And after enough of that happens, the Obamas will survey the landscape, they will not pull the trigger and get in if they don't think it is a lock that she would win. The last thing the Obamas can afford is for Michelle (My Belle) to get in there and not win….
How could this come down? The most likely scenario is at the Democrat convention. In March 2019, liberal Ed Kilgore at New York Magazine explored how Yes, a Contested Convention Could Actually Happen in 2020.
Michelle would win by acclamation. That her memoir is set to become the best selling memoir of all time is a sign of her star power. Democrats would swoon. The Obama coalition would be resurrected. Who would oppose her among Democrats?
There's no reason for Michelle to get in the race now, where she'd have to demean herself by appearing on debate stage with clowns, kooks and fakes. Time is on her side. She will pounce at the right moment, if the moment presents itself.
Michelle as Hail Mary Pass to prevent a Bernie electoral apocalypse. Don'
The Michelle Obama Connection To The Jussie Smollett Case Just Got Even Stranger
Nobody, except for the Obama family, knew who Tina Tchen was a few days ago. Now, her name is everywhere in the news.
That's because Tchen, former chief of staff to Michelle Obama, is being credited as the person who got hate-crime hoaxer Jussie Smollett off the hook recently in Chicago.
All charges against the "Empire" actor were dropped once Tchen got involved in the case.
But now things just got even stranger, if you can believe it.
From The Daily Wire:
Tchen's name is not only appearing in reports about helping steer the Smollett investigation. She is also getting news coverage as the person hired to investigate alleged racism and sexism within the Southern Poverty Law Center. Earlier this month, the center's co-founder, Morris Dees, was fired. The president of the organization also recently resigned amid complaints from employees that women staffers were sexually harassed by Dees and that the organization's white leadership did not adequately advance minority staffers.
In a statement announcing Dees' firing, then-president Richard Cohen said the center had hired "an outside organization to conduct a comprehensive assessment of our internal climate and workplace practices, to ensure that our talented staff is working in the environment that they deserve – one in which all voices are heard and all staff members are respected."
The person hired to lead this investigation was Tchen. The Chicago-based attorney and co-founder of the Times Up Legal Defense Fund (part of the MeToo movement), will be assessing the SPLC's workplace culture. …
Very interesting, indeed.
COTR adds the following:
"Interesting" is one word for what's going on here. It's about the tamest word I could think of. I can think of many, many more.
We've recently heard a lot about Michelle Obama's former chief of staff, Tina Tchen, for basically being the person who got hate-crime hoaxer Jussie Smollett's charges magically dismissed after previously having 16 felonies to account for. …
But see… that's not the only reason Tina Tchen is a hot topic right now. She's involved in yet another scandalous case. …
I'd bet my firstborn that Jussie's bewildering pass has a little something to do with Tchen's "commitment to social justice."
There's no evidence that Michelle or anyone else in the Obama family was involved.
Advertisement - story continues below
Still, it's not too hard to connect the dots in this case.
And you know what? This isn't the first time since leaving office that the Obama family was connected to a major scandal post-White House.
Heck, it isn't even the first time this month.
The Obama family was also connected to the college admissions bribery case earlier in March.
As we reported at the time (only two weeks ago):
Advertisement - story continues below
The growing college admissions bribery scheme that's already taken down Felicity Huffman and Lori Loughlin is getting bigger by the day.
As more names continue to drop, we've discovered that one of those names has personal ties to the Obama family.
Gordon Ernst was among 50 people charged in the case. He worked personally with the Obama family as the tennis coach to Michelle Obama and the former first family's two daughters, Sasha and Malia. …
Again, how interesting. And convenient.
What do you think of this?
Facebook has greatly reduced the distribution of our stories in our readers' newsfeeds and is instead promoting mainstream media sources. When you share to your friends, however, you greatly help distribute our content. Please take a moment and consider sharing this article with your friends and family. Thank you.
WHOA! Obama's Brother Questions Michelle Obama's Gender – "Is Michelle Michael?"
Guest post by Bright Start News
Think your family Thanksgivings are awkward and tense? Try being at the Obama Thanksgiving table after what Malik Obama said this about his brother Barack's wife.
"Is Michelle Michael?" Malik Obama tweeted.
Is Michelle Michael?

— Malik Obama (@ObamaMalik) March 14, 2019
No idea why he tweeted that out, but it has the socials buzzing.
Regardless of political affiliation that isn't cool.

— ???????????? (@John8Wick5) March 15, 2019
pic.twitter.com/ShvO5gLMLC

— juanbadhombre (@juan_bad_hombre) March 15, 2019
"She's A Man Baby" ✌? ?? pic.twitter.com/Gq5LQzn7zd

— ?NJ?Mikey? (@NewJerseyMikey) March 15, 2019
Do tell pic.twitter.com/iM68GVTAev

— Ciara ?? (@LadySavsy) March 14, 2019
Is Maliki a supporter of Hamas? 2010 conference in Yemen, wearing a Hamas scarf with the slogans, "Jerusalem is ours – we are coming," and "From the river to the sea." pic.twitter.com/FFMf8fpeuG

— ???? ???™???? (@Jayyorkman) March 15, 2019
? pic.twitter.com/f3pYL09QB7

— ItsGonnaBeGlorious ??? (@lauderdaleagent) March 15, 2019
Stay tuned for developments as they arise….
This article was sourced from
The Gateway Pundit
This article was sourced from LegalInsurrection
This article was sourced from TheFederalistpapers
© 2021 DEMY Media, LLC